Church of, Archdiocese, shop in Singapore, shopping, for sale
Catholic Collectibles
Online Gift Shop
Singapore
For orders or enquiries, please email: kennykhoocs@singnet.com.sg
United States, Mexico, France, Spain, Portugal, Monaco,
Brazil, Argentina, Chile, Croatia, Ireland, Philippines
Updated 17 October 2017
table, wall cross, crucifix, crucifixes, pendant, figurines, bible, missal, scapulars, jewelry, first communion, confirmation, baptism, altars, paintings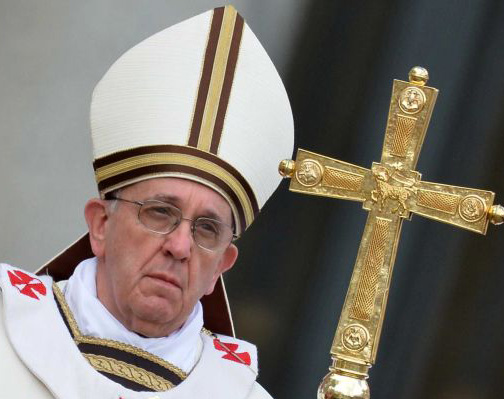 Franciscus, Episcopus Romae
religious statues, statuettes, auto, car, key chains, holy water bottles, fonts, church shop, for sale, chalice, blessed candles, candle stand, mementos
Products in this online store are inspired creations for sharing with members of the Catholic church.
Faith-inspired gifts ideal for Christmas, Easter, Birthdays, Anniversaries, Mother's Day or as Valentine's Day gifts.
Our rosaries and chaplets are now exclusively being designed and crafted locally here and will not be available anywhere else.
All of these pieces are handcrafted and most are one-off items that could not be duplicated due to the limited availability of gemstones.
Rosaries on this website are limited edition, unique and are of exceptional quality for local distribution in Singapore and for Catholics worldwide.
Collectibles displayed in this shop are our full collection which we like to share with all who are devoted to the Catholic faith and its traditions.
Our underlying aspiration for this site is to strengthen Catholic Identity among the Catholic laity.
"You are the light of the world. A city on a hill cannot be hidden" Matthew 5:14
America, USA, Rhode Island, Massachusetts, New Jersey, Connecticut, New York, New Hampshire, California, Brazil, primary school registrations
Sacramentals and Devotionals
Baptism, Confirmation, First Holy Communion gifts, Singapore Catholic shop, USA, Singapore, Baptism gifts, Catholic gifts Singapore, Confirmation gifts
Rosary, Wisconsin, New Mexico, Illinois, America, USA,
rosary Jakarta, Indonesia, Rosario Jakarta, Indonesia
rosary USA, America, New York, rosary California, America, United States
Catholic Feast Days and Rosaries 2017
October 2017
Month of the Most Holy Rosary
Cruz de Caravaca
Latest Arrival
The Caravaca Cross with double cross bar, body of Christ, and two angels takes its name from Caravaca (now known as Caravaca de la Cruz), Spain, a town in the province of Murcia. The Cross is a popular religious symbol in Mexico and is said to be the first Christian cross to be brought into the country. Mexican Christians believe the cross has special powers to grant wishes and prayers.

Franciscan missionaries brought the cross to the new world. In 1943, when the burial crypt of Father Serra (1713-1784), the Franciscan founder of the California missions, was opened, a Caravaca style relic cross was found. The cross is now on display at the Carmel Mission.

One version of the legend of the origin of the Caravaca cross is as follows.
When the Moors captured their prisoners they determined whether they had any particular skill, and if the skill was worthwhile their life would be spared. One day they captured a priest and asked him what tools he needed to show his trade. He asked for a table, three linen cloths, two candles, a cup, bread, wine, and a crucifix. He was provided with everything except for the crucifix. Without the crucifix, he could not perform his trade. On the verge of being put to death, two angels arrived carrying a cross. They held it over the table while the priest said mass and his life was spared. The cross was attributed to the patriarch of Jerusalem and included a piece of the True Cross.
This replica of this very rare ancient bronze crucifix is re-perpetuated into a rosary. This rosary is made with black agate prayer beads. The very rare Caravaca crucifix is inscribe with the words "Cruz de Caravaca" on its back and the back of the centerpiece is inscribe with "Immaculate Heart of Mary. Pray for us".
Note the skull and bones at the bottom of the crucifix. It is a reminder that Jesus was crucified in Golgotha or the place of the skull. In ancient tradition, it was believed that it was where the skull of Adam was buried. The skull and bones is a symbol of death. By placing it under Jesus feet is a symbol of Christ conquering death by His own death and overcoming the sin of Adam and redeeming us all.
SGD 68.00
(One piece available in stock - Limited stocks)
A Soldier's Field Rosary
New Arrival
Many soldiers are devoted to the Rosary. It brings them peace when little else can during times of war.
Military victories through the Rosary motivate and inspire soldiers during times of war. Every soldier desires peace. This peace is only attained through the Rosary.
"Those who are sworn to serve their country in the armed forces are servants of the security and freedom of the nations. If they carry out their duty honorably, they truly contribute to the common good of the nation and the maintenance of peace." ref: Catechism of the Catholic Church, #2310.
Major General Raymundo Ferrer of the largely Catholic Philippines military, spoke with UCA News in Taguig, just south of Manila, where he was recuperating from combat-related spinal surgery. "I developed the habit of praying the rosary before combat operations for safety and guidance,"
ref: http://www.ucanews.com/story-archive/?post_name=/2008/10/29/devotion-to-rosary-helps-soldiers-cope-with-homesickness-stress&post_id=49384
The soldier's rosary carries the St Michael's, St Joan of Arc and the Lady of the Most Holy Rosary a.k.a Our lady of Victory medals. It so displays the St Benedict crucifix before the antiphon beads. All medals and the crucifix are attached using gun metal double split rings.
St Michael the Archangel is the patron saint of soldiers and battles. He has provided protection to countless military personnel around the world for millennia.
St Joan of Arc, who lived from 1412 to 1431 in France, led the French army against the English is one of the most beloved saints of all time. This inspiring woman became known for her extraordinary courage, her leadership in battle, and her close relationship with Archangel Michael.
Our Lady of the Most Holy Rosary, aka Our Lady of Victory interceded in the decisive victory of the Holy League of 1571 over the Ottoman navy at the battle of Lepanto.
The St Benedict medal crucifix after its formal approval by Pope Benedict XIV in the 18th century, is used by Roman Catholics to ward off spiritual and physical dangers, especially those related to evil, poison, temptation and protection from unclean spirits.
Many testimonies from soldier's serving in the Middle East and Afghanistan can be found about how the rosary saved their lives.
This tough and rugged rosary is strung on 2mm camo military paracord and is held together by a high impact 3-way ABS thermoplastic polymer buckle. It has large 10mm coffee-coloured wooden beads. All of the components are imported as the correct parts are not available locally. An ideal gift for Catholic men and women who are serving in the Armed Forces or those who are being enlisted for National Service.
"Almighty and eternal God, protect these soldiers as they discharge their duties. Protect them with the shield of your strength and keep them safe from all evil and harm. We ask this through Christ, our Lord."
SGD 82.00
( Orders accepted, please enquire. 3 to 4 weeks lead time for import if components are not in stock)
Catholic Baptism gifts, Spain, Barcelona, Madrid, Tenerife, Majorca,Valencia, La Oliva, Seville, Llanes, Granada, USABaptism, Christening, baptismal gifts, rosary, bracelets, necklace, chaplets for sale in England, Wales, Scotland and Northern Ireland, Moyle, Limavady, Derry, Magherafelt, Strabane, Cookstown, Omagh, Dungannon, Armagh, Fermanagh, Newry, Mourne, Down, Ireland, England, Wales, and Scotland, Isles of Wight. USA
Franciscan 7 Decade Crown Seraphic Rosary
4 October 2017
In 1422, a young man who was a reverent devotee of the Virgin Mary has always adorned her statue with wreaths of flowers. When he admitted into the Order of Friars Minor, he was sad as he was not able to continue this practice. Then the Virgin Mary appeared to him and taught him how to weave a crown of flowers from prayers instead of actual flowers. He proceeded to pray as he was taught and after praying, his Master witness an angel weaving a wreath of roses and at every tenth rose the angel placed a golden lily. When the wreath was ready the angel placed it on the novice's head. His Master then ask him what is the significance of the vision and it was then, the custom of reciting the crown of 7 Our Fathers, and 72 Hail Marys in honor of the 72 years Our Lady lived on this earth became widespread. On this rosary, prayers start on the fifth bead from the crucifix.
The Franciscan Crown or Saraphic rosary as it was known is created in brown mixed agates and red carnelian gemstones with the San Damiano Crucifix.
SGD 58.00
(Please enquire. Limited stocks)
Catholic baptism, baptismal. christening gift ideas, personalize, custom gifts in United States, Massachusetts, Connecticut, New York, Texas, Arizona, Illinois, Wisconsin, Pennsylvania, Nebraska, Florida, Maine, Minnesota, Colorado, Hawaii, Nevada, Ohio, Iowa, USA
Our Lady of the Most Holy Rosary
7 October 2017
Commemorating the victory of the Holy League at the Battle of Lepanto against the Ottoman Turks in 1571. The victory was attributed to the Blessed Virgin Mary as a rosary procession was offered at St Peter's Square in Rome under the direction of Pope Pius V during the heat of the battle. Please read about the power of the rosary at www.opusangelorum.org/formation/holyrosary.html
The above 'Tenner' pocket rosary was created in 8mm multicolor Howlite to simulate the colours of battle flag of the Holy League. The Tenner was finished with a red AB Swarovski crystal Pater, period crucifix and rare Queen of the Most Holy Rosary medal.
SGD 38.00
(Orders accepted, please enquire)
Catholic Gift shop in Rhode Island, New Jersey, Massachusetts, Connecticut, California, New York, New Hampshire, Texas, Arizona, Illinois, Louisiana, baptism gifts, christening personalize customized gifts, USA
Our Lady of Good Remedy
8 October 2017
When many Christians were captured and sold as slaves back in the 11th century, St John of Matha founded a group called the Trinitarians who bought out the slaves and set them free. They place their fund-raising efforts under the patronage of the Blessed Virgin Mary and they was so successful that they are able to free thousands of Christians and returned them safely to their homes. In his gratitude to the Virgin Mary, he honored her with the title of 'Our Lady of Good Remedy'. Devotion to the Virgin Mary under this ancient title is well known in Europe and Latin America.
This rosary is dedicated to Our Lady of Good Remedy. It is created with Lapis lazuli Aves and Red agate capped Paters. It is also adorned with a decorative Miraculous medal center piece and 48mm silver plated pole crucifix.
When in need, invoke Our Lady of Good Remedy and you will surely experience the power of Her intercession.
SGD 48.00
(Orders accepted, please enquire.)
Canada, Quebec, Sherbrooke, Rimouski, Gatineau, Montreal, Quebec, Ottawa, Ontario, Liverpool, Glasgow, Motherwell, Paisley, United Kingdom, USA
USA, Rhode Island, Pennslyvania, Illinois, Wisconsin, California, New Mexico, New York, Connecticut, Massachusetts, New Jersey, Rhode Island, USA
The Rondelle Collection
Our Lady of Good Help
Green Bay, Wisconsin
8 October 2017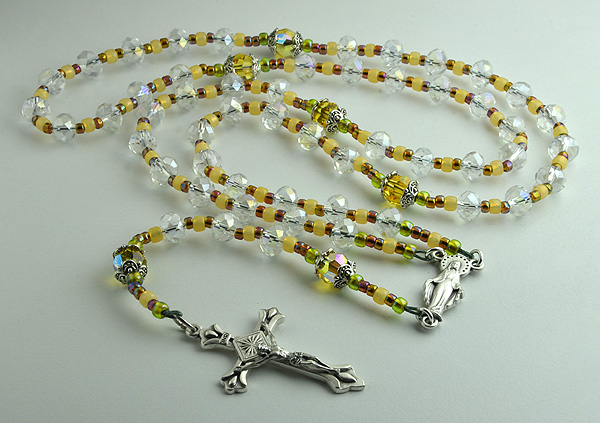 Adele Brise in 1859, reported to her parish priest of a woman she saw standing inbetween a Hemlock and a Maple tree. The woman was surrounded by a bright light, clothed in dazzling white with a yellow sash around her waist and a crown of stars above her flowing golden locks. The parish priest told her to ask the woman; "In the name of God, who are you and what do you wish of me?", should she see the vision again. When she saw the apparition the third time, she asked the question she was given and the lady replied, "I am the Queen of Heaven, who prays for the conversion of sinners and I wish you to do the same". A chapel was later built at the site of the apparition. On 8 October 1871, a great firestorm broke out and destroyed the entire surroundings of the parish but the chapel and the people who had taken refuge there survived the fire unharmed. This was the only apparition approved by the Catholic Church in the United States.
This rosary is dedicated to Our Lady of Good Help and is designed in clear rondelle crystal Aves with Topaz crystal Paters.
SGD 68.00
(Only one piece available)
Catholic baptism, christening, baby, infant, personalized gifts, for boys, for girls. Baptism gift ideas, invitation, confirmation, religious, Catholic, gifts. Catholic store online, products, United States, Ireland, silver, antique, new baby, keepsakes, bible gifts, rosary beads, house, inspirational gifts, black rosary, for Catholics, crucifix, crosses for sale, USA
Our Lady of the Pillar
12 October 2017
According to ancient Spanish tradition, when St James was praying for encouragement in converting pagans, the Virgin Mary appeared to him on a pillar accompanied by angels. She gave him the pillar and a wooden image of herself and asked for a chapel to be built on where the pillar stood. Since then, the apparition of Our Lady of the Pillar has been a widely accepted sacred tradition. Today, the sacred pillar left by the Virgin Mary is enshrined in the Basilica of Our Lady of the Pillar in Spain. The enshrined wooden statue of Our Lady stands on a 1.8m pillar made of Jasper. Our Lady of the Pillar has been also venerated around the world. A notable Marian shrine that has been venerated for almost 4 centuries is at Fort Pilar in Zamboanga, Philippines
This commemorative rosary is made of Picasso Jasper Aves and rare Purple Jasper Paters with bronze Miraculous center and an unique mediaeval 47mm bronze crucifix.
SGD 54.00
(Bead caps and blue jasper Paters shown above are no longer available. Similar alternatives are available.)
Catholic saint store. Catholic gifts in Wisconsin, Pennsylvania, Nebraska, Florida, New Mexico, Vermont, Maine, Minnesota, Colorado, Hawaii, Montana, Nevada, Ohio, Iowa.
Catholic shops, rosaries, Cape Verde, Malta, Monaco, USA
The Rondelle Collection
Our Lady of Aparecida
Nossa Senhora Aparecida
'Our Lady who Appeared'
12 October 2017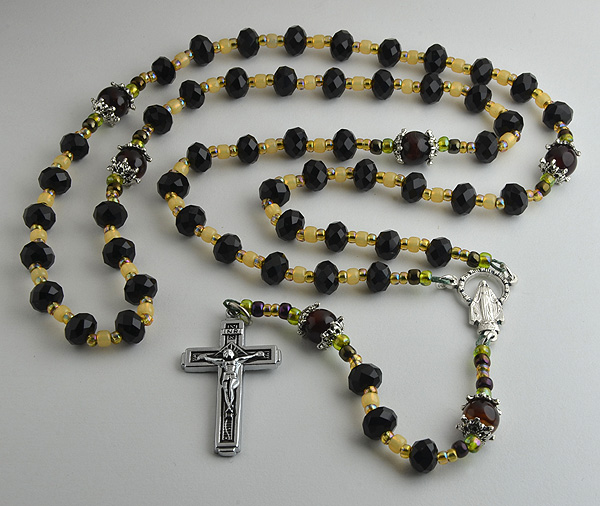 In 1717, three fishermen, after praying to Our Lady of Immaculate Conception, went out in their boat to fish. Instead of catching fish after many attempts, the fishermen hauled up a statue of Our Lady of Immaculate Conception in two parts. They named the statue 'Our Lady Aparecida' and continued to fish. This time their catch was bountiful. This was the first noted miracle of Our Lady of Aparecida. They cleaned the statue and house it in a church which was built in her name. The village of Aparecida was borned thereafter and the church was later made bigger to cater for the many pilgrims who came and became the Basilica of the National Shrine of Our Lady of Aparecida. The statue was later crowned in 1904 and in 1930, Pope Pius XI proclaimed her the principal patroness of Brazil.
On July, 2013 World Youth Day, Pope Francis venerated the image of Our Lady of Aparecida and celebrated Mass at the Basilica.
The above rosary was dedicated to Our Lady of Aparecida and was designed in black rondelle crystal Aves and brown agate Paters.
SGD 64.00
(Last one currently in stock)
Canada, Beverly, Toronto, United States, rosary, rosaries and catholic rosary shops, Ave Marias Circle, rosary making supplies Canada, Catholic church. The bible, jewelry, gift ideas, anniversary gifts, valentine's day gifts, unique gifts, christening gifts, mother's day gifts, gifts for birthdays, jewelry gifts, gifts for her, religious gifts, USA.
Purity of the Blessed Virgin Mary
16 October 2017
Dedicated to the Purity of the Blessed Virgin Mary. This feast day was celebrated under the reforms of Pope Pius X. It was also kept by the Order of the Carmelites as they were the first Order founded under the patronage of the Blessed Virgin Mary. May the intercession of the Immaculate Mother of God avail to each one of us.
Designed with Swarovski crystal pearls and traditional oval Miraculous Medal center and flared grapes and leaf Crucifix. Strung on nylon monofilament.
SGD 46.00
(Orders accepted, please enquire. Few pieces left.)
Feast of Saint Jude
28 October 2017
When all else has failed, turn to St Jude to intercede for us. Personal novena prayers to St Jude can be found on www.ourcatholicprayers.com/prayer-to-st-jude.html
The feast of St Jude is celebrated on 28 October.
Small and flexible 9 bead linear chaplet that can be carried around wherever you go. Made with 8mm green jade, filigree crucifix and St Jude medal.
SGD 38.00
(Orders accepted, please enquire. Limited stocks)
Ohio, Rosary cathedral Toledo, Rose petal rosaries, Delphos, Our Lady of the rosary Dayton, Greenhills, Cincinnati, Cleveland, Sylvania, St. Marys
Our Lady Mediatrix of All Graces
1 November 2017
In 1921, Pope Benedict XV instituted November 8 as the Feast Day of Our Lady Mediatrix of All Graces. A.k.a. Our Lady of Grace celebrated on 31 May. Only Mary found grace before God (Luke 1:30) and all who found grace before God, found it only through her. She was full of grace when Archangel Gabriel saluted her and was so full of grace when the Holy Spirit descended upon her first, and then the apostles (Luke 1:28 and Luke 1:35).
Hail Mary full of Grace, the Lord is with thee.
White jade with Swarovski Lt. Azore crystals with cut-away Miraculous center and ornate crucifix.
SGD 48.00
(Orders accepted, please enquire)
Our Lady of the Almudena
Nuestra Senora de la Almudena
9 November 2017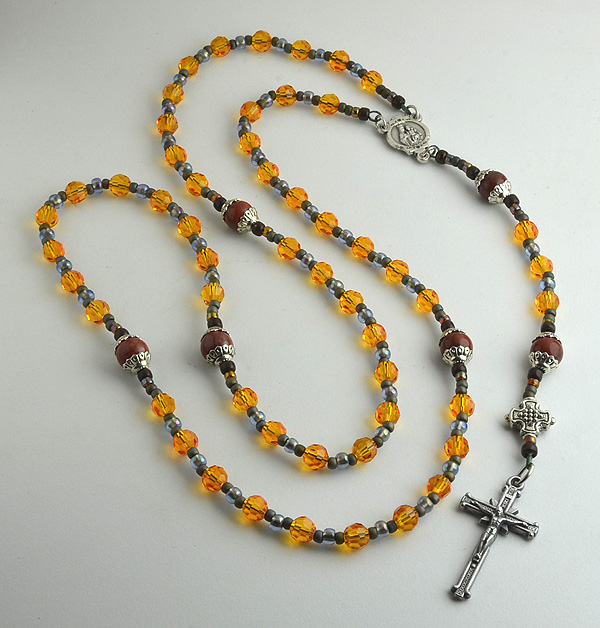 New Arrival
Our Lady of Guadalupe in Mexico bears a resemblance to another statue, Our Lady of the Almudeńa where she was also depicted as standing on a crescent moon. The latter's story was that her statue was originally brought to Spain by St. James and was housed in a Church in Madrid for centuries until the Islamic conquests. Catholics hid the statue under a local granary. Nearly four centuries later when Madrid was re-conquered in 1085, the statue was discovered by locals during a prayer procession around the city when part of a wall crumbled and revealed the statue with two lighted candles which had miraculously been burning for 300 years within the city walls. The church was rebuilt and the statue restored to its rightful place. Catholics would be wise to seek her prayerful inspiration when conversing and contending with the sectarian strife that exist today, just as did the Spanish Catholics of ages past.
This rosary incorporates the Blessed Virgin Mary with Infant Jesus centerpiece with credo cross and crucifix. The sign of cross is made with the crucifix and the credo cross is where the Creed was traditionally recited. Ave beads are orange topaz colored round crystals with red jasper Paters. The colonial Spanish crucifix is in dark tone oxidized silver. Can be worn as a necklace as an expression of faith if so desired.
SGD 68.00
(Limited edition)
Florida unbreakable rosaries, Holy rosary catholic school, rosary pea, rosaries Lehigh Acres, St Lucie rosary makers, Holy rosary Jacksonville, USA
Our Lady of the Gate of Dawn
Mother of God's Mercy
16 November 2017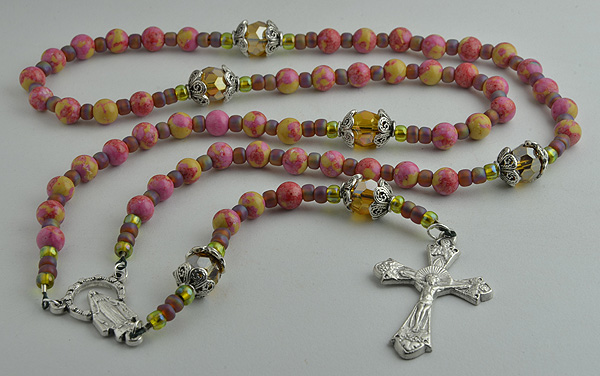 Devotion to the Virgin Mary under the title of Our Lady of the Gate of Dawn was centered around a painting on a wall in Vilnius in Lithuania, Northern Europe. The painting was under the care of the Carmelite monks in 1626 and by 1671, seventeen miracles have been recorded and confirmed under vow by locals and pilgrims. In 1927, Pope Pius XI allowed the painting to be solemnly crowned and granting it the title of Mary, Mother of Mercy. The feast of the Vilnius Madonna is celebrated on 16 November.
Also commemorating the Order of the Mecedarians (a.k.a. the Order of Our Lady of Mercy or Our Lady of Ransom) founded in 1218 by St Peter Nolasco, whose primary mission was to free Christians from enslavement during the wars between Christian Aragon and Moorish Al-andalus Spain. Unlike the Trinitarians of 1198, Mecedarians will have to take a fourth vow to offer themselves for ransom should there be no funds available. There have been many Mecedarians martyrs who followed this fourth vow.
This commemorative rosary was made from red and yellow Howlite and Swarovski topaz crystals with full figurine cut-away Blessed Virgin Mary center and ornate flared Crucifix.
SGD 48.00
(Currently available)
Release 1,000 souls from Purgatory
Chaplet of St Gertrude the Great
16 November 2015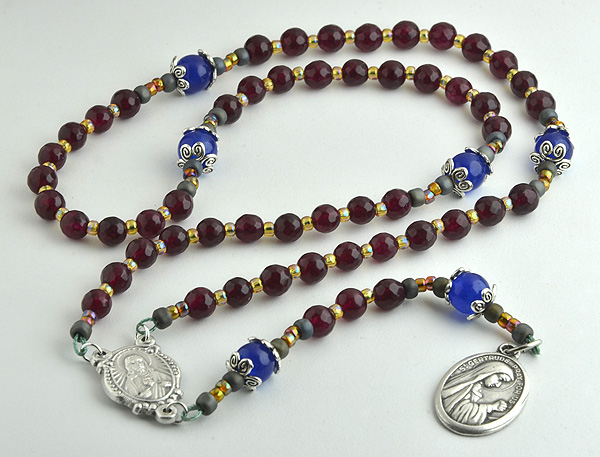 Latest Arrival
Our Lord promised Saint Gertrude the Great that 1,000 souls would be released from purgatory each time the prayer is said devoutly. And if one prays the entire St Gertrude chaplet, Our Lord will release 50,000 souls from purgatory each time it is said. The St Gertrude prayer can be found at http://www.sistersofembracement.org/Chpgertrude.htm with instructions on how to pray the chaplet. This chaplet uses the usual five decade rosary except that the cross was replaced by a St Gertrude medallion and the centerpiece is a Sacred Heart medallion. St Gertrude was born in 1256 in Germany. Jesus appeared to her after her 25th birthday and gave her the prayer that would release souls from purgatory. She was an early devotee of the Sacred heart of Jesus which was recorded considerably in her renowned spiritual writings. More about Saint Gertrude the Great can be found at http://www.mtep.com/stgertrude.htm
The chaplet was created in faceted garnets and sapphire beads, to reflect the style of early Germanic jewelry, and with the Sacred Heart centerpiece and very rare St Gertrude the Great medallion.
SGD 48.00
(1 no. currently in stock - Limited stocks)
Canada, Beverly, Toronto rosary, rosaries and catholic rosary shops, Ave Marias Circle, rosary making supplies Canada, USA
Our Lady of the Miraculous Medal
27 November 2017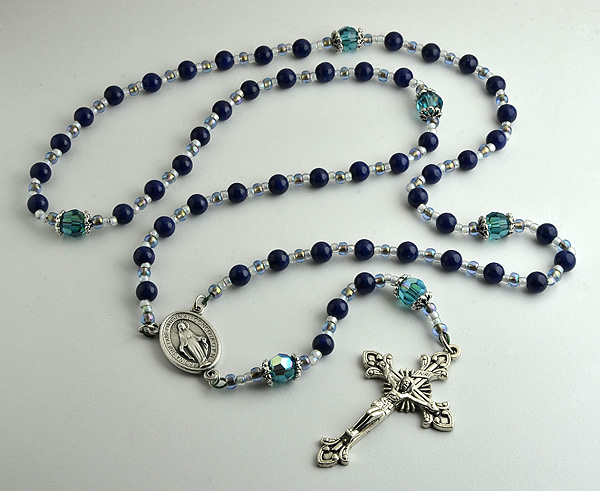 Lapis Lazuli and Indicolite crystal rosary with traditional oval Miraculous medal and new version ornate crucifix.
Coronation circumference: 27 inches. Total rosary linear length: 20 inches
SGD 56.00
(Orders accepted. Please enquire. Few pieces left.)
Single Decade Pocket Novena Chaplet
St Nicholas
1 December 2017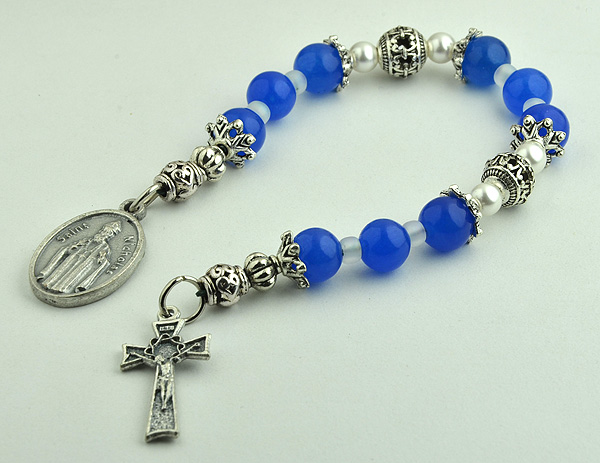 Glorious Holy Nicholas, humble and virtuous Archbishop of Myra. It is true that you hear those who come to you in their trials and tribulations.
Full prayer sequence can be found at www.stnicholascenter.org/pages/chaplet-1/. The chaplet of Saint Nicholas is a prayer for mercy and protection.
Created in 8mm blue sapphire, white crystal pearls, silver plated ornaments with rare small crown of thorns crucifix and Saint Nicholas medal.
Can also be designed as a bracelet if so desired.
SGD 38.00
(Orders accepted, please enquire)
Chaplet of the Immaculate Conception
8 December 2017
"I am the handmaid of the Lord, let it be done unto me according to thy word"...Luke 1:38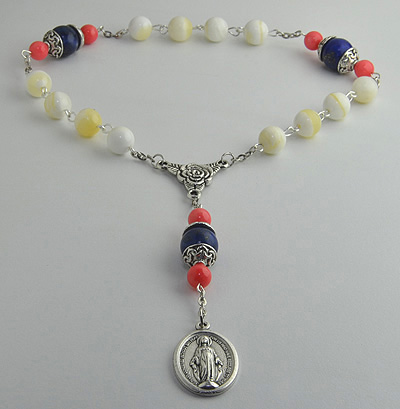 A chaplet with the Miraculous Medal for special devotions to honor the Blessed Virgin Mary of Immaculate Conception and to obtain, through the intercession of the Blessed Virgin Mary, the grace of never committing any sin against the virtue of purity.
"Praise be to the Immaculate Conception of the Blessed Virgin Mary - O God, come to my aid; O Lord, make haste to help me in my time of need"
In emergencies, pray "O Mary, conceived without sin, pray for us who have recourse to thee" on the Aves.
This devotional chaplet have 3 Paters and 3 sets of 4 Aves. Paters are in 10mm Royal Blue Lapis Lazuli and Aves are in 8mm Royal White Baltic Amber semi-precious gemstones. Highlights are in orange Coral stones. The Miraculous medal is 22mm in length. Choice of bead color have been inspired by 15-16th century paintings of the Blessed Virgin Mary.
"All those who wear them will receive great graces" - According to St Catherine, November 1830 of the Miraculous medal.
SGD 38.00
(Out of stock - New design available, please enquire)
Our Lady of Guadalupe
12 December 2017
Brazilian rosaries, Year of the rosary, rosary victory in Brazil, Power of the rosary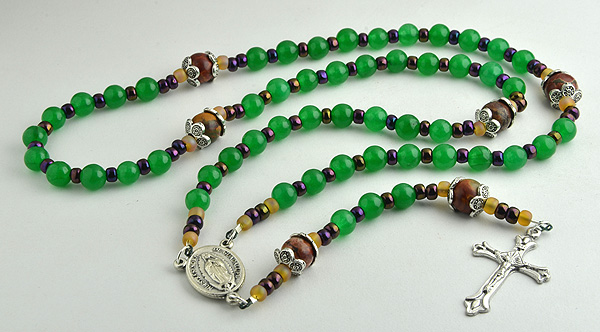 "...I am your merciful mother...of those who love me, of those who cry to me, of those who seek me, of those who have confidence in me, I will hear their weeping, their sorrow, and will remedy and alleviate their sufferings, necessities and their misfortunes." ...Our Lady of Guadalupe as related by San Juan Diego, 1953.
On 9th December, 1531, an Indian covert Juan Diego saw a vision of the Virgin Mary standing in the midst of a glorious light. She than made known to him that it was her desire to have a shrine to be built where She could demonstrate her love, compassion and protection for the people. However the Bishop was reluctant to believe Juan Diego and ask him for proof of of his story. Then on another day, the Virgin Mary appeared to him again and told him to go up a mountain to find many blooming flowers although no flowering plant was known to be found growing on the rocky outcrop. But just as the Virgin has said, he found a garden with dew-fresh flowers which he cut and brought to the Virgin Mary. She then asked him to bring the flowers to the Bishop as proof of their encounter. San Juan wrap the flowers in his cloak or tilma and brought it to the Bishop. As the opened his tilma, the flowers felled to the ground but to their astonishment, there was a miraculous image of the Virgin Mary imprinted on the fabric of his tilma, just as he had described to the Bishop. This fabric with the Virgin Mary's image is still in good condition after 5 centuries and still can be viewed at the Basilica of Our Lady of Guadalupe in Mexico City. Scientific studies was carried out on the fabric and it could not explain how the image was created.
OLO Guadalupe green Emerald and Picasso Jasper rosary with OLO Guadalupe center piece and ornamental crucifix.
SGD 48.00
(Currently available. Limited stocks)
Gaudette Sunday
3rd Sunday of Advent
17 December 2017
The season of Advent originated as a fast of forty days in preparation for Christmas.
"Rejoice in the Lord always; again I say, rejoice. Let your forbearance be known to all, for the Lord is near at hand; have no anxiety about anything, but in all things, by prayer and supplication, with thanksgiving, let your requests be known to God. Lord, you have blessed your land; you have turned away the captivity of Jacob." Philippians 4:4–6; Psalm 85 (84):1
In churches that have an Advent wreath, the rose coloured candle is lit in addition to two of the violet (or blue) coloured candles, which represent the first two Sundays of Advent. Despite the otherwise somber readings of the season of Advent, which has as a secondary theme the need for penitence, the readings on the third Sunday emphasize the joyous anticipation of the Lord's coming.
6mm Pink Rhodochrosite and Purple Alexandrite gemstones with Jonquil crystal Pater First Holy communion rosary bracelet adorned with ornate crucifix and new Holy Eucharist medal with the words 'First Holy Communion" on its back. Fits 6.0 inches wrist size. Nativity of Jesus with Angel and Bethlehem star medals available on request. Pls specify wrist size when ordering.
SGD 38.00
(Orders accepted, please enquire)
Nativity of Jesus Christ
Christmas Day
25 December 2017
Green Jade and Red Carnelian Agate with a sparkling clear Swarovski Aurora Borealis crystal Pater Christmas rosary bracelet. Adorned with ornate crucifix and Holy Family medal with a beautiful relief of the Holy Spirit Dove on the flipside and finished with a fine floral clasp. Optional medal of the Child Jesus, Divino Nino de Columbia also available.
Also available with Infant Jesus Nativity medal with Bethlehem star.
Bracelet size: 7.25 inches (Can be extended to fit larger wrist sizes). Crucifix shown is out of stock. Will be substituted with a similar crucifix.
SGD 40.00
(Limited edition, orders accepted, please enquire - Limited Stocks)
Feast of the Holy Family
30 December 2017
The Holy Family consist of the Child Jesus, the Virgin Mary and Saint Joseph. Veneration of the Holy Family was formally begun in the 17th Century by Blessed Francois de Laval, the first bishop of France. The Feast of the Holy Family is a liturgical celebration in the Catholic Church in honor of Jesus of Nazareth, his mother, the Blessed Virgin Mary, and his foster father, Saint Joseph, as a family. The primary purpose of this feast is to present the Holy Family as a model for Christian Families.
This pair of rosaries was created to celebrate the Feast of the Holy Family and was strung with Swarovski crystal pearls adorned with a rare Holy Family center piece which bears the inscription; "The family that prays together, stays together" on the back. Strung on nylon monofilament. Also available in white pearls for ladies.
SGD 48.00
(Orders accepted, please enquire)
Our Lady of Altotting, Bavaria
14 February 2018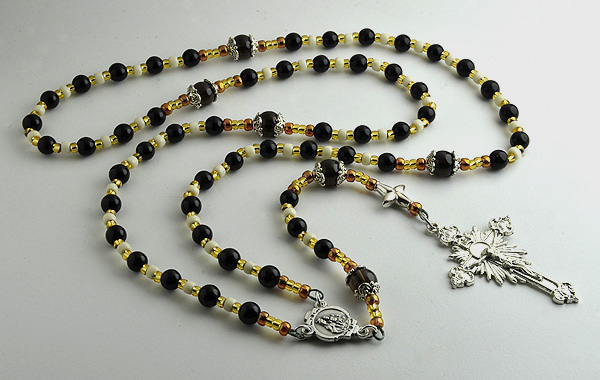 New Arrival
The Shrine of Our Lady of Altötting, also known as the Chapel of Grace (German: Gnadenkapelle), is the national shrine of Bavaria dedicated to the Blessed Virgin Mary. It is known for the many healings which are said to have taken place there, and is commonly called the Lourdes of Germany.
The octagonal chapel which houses the image of Our Lady dates to about A.D. 660, and is the oldest Marian shrine in Germany. The image of Mary venerated there is a Black Madonna of great antiquity (possibly about 1330), carved from lindenwood. According to the legend, in 1489, a 3-year-old local boy who had drowned in the river was revived when his grieving mother placed him in front of a wooden statue of the Virgin Mary at the high altar.
Today the shrine attracts over 1 million pilgrims each year. The many crutches and other votives on display there testify to the healings attributed to the intercession of Our Lady of Altotting.
The shrine was honored by a visit by Pope John Paul II in November 1980. He was accompanied by Cardinal Joseph Ratzinger, who was born in a nearby town. On 11 September 2006, Ratzinger, newly elected as Pope Benedict XVI, returned to the shrine and donated the episcopal ring he had worn while he was the Archbishop of Munich. The ring is now a part of the scepter held by the Blessed Virgin.
Created in black agate Aves and dark smoky quartz Paters with Credo Cross and very rare radiating sunburst crucifix.
SGD 68.00
(Currently in stock)
More rosaries can be found Here and

Rosario Indonesia, Jakarta, East Nusa Tenggara, Rosario Java, Muntilan, rosary Malaysia
Catholic shop Singapore, First Holy Communion gifts
Catholic gifts Singapore, Baptism gifts, Confirmation gifts, Infant baptism gifts, Christening Gifts, Catholic online shop, rosary USA, United States of America, CA, California, America, Rosario Indonesia, Jakarta
Important note:
All of the above articles have not been blessed.
Please proceed to your parish priest to get the liturgical rite of blessing carried out for the devotional articles that you have purchased as soon as possible.
Sacramentals should be used with Faith and Devotion.
"Sacred objects, set aside for divine worship by dedication or blessing, are to be treated with reverence. They are not to be made over to secular or inappropriate use, even though they may belong to private persons" - Canon 1171, Code of Canon Law.
"...do everything for the Glory of God" - 1 Corinthians 10:31
Catholic shop Singapore, Baptism gifts, rosary USA, America, united states of America, CA, California,

Ex-stock items and more can be viewed in our archive photo albums at the above link.
Kindly e-mail us the items you wish to have and we will re-order the ex-stock items for you if it is available.
Catholic gift shop Singapore, gifts for Christmas, gifts for Valentine's Day, catholic gifts in Singapore
Commentary
St. Benedict Crucifix
This is a replica of an Italian St. Benedict Crucifix with a few differences from the original. The most obvious is that it doesn't have 'ITALY' embossed at the feet of the corpus. It also lacks the side lance wounds on the crucified Christ. And lastly, instead of wooden inlays, it has wood-finished laminates. I found this curious crucifix at a flea market not knowing that it is a representation of a St. Benedict Cross. The clarity and details on the medal, on both the front and back, looked extremely intriguing that I bought it after a bit of haggling.

After some research, I discovered the meanings of the inscriptions and the values of the St. Benedict Cross, notably its protective attributes as well as its use in exorcising evil. It is also a symbol of strength at the time of death and a constant reminder for us to take up the cross as followers of Christ.

As this site is not a big-money business, I felt it is not necessary to debate about sweat shops in China and persecuted Catholic priests and why Catholics should boycott their products. This site is more about sharing, promoting and sustaining the Catholic faith. The symbol of the Cross and representations of Saints has always been a way of strengthening our faith in God and the Catholic Church together with its traditions and its values. Be it an Italian handmade cross or a China-made replica, it is our faith in God and the Saints that we pray to and not the objects themselves as they are just simply symbols of faith.

I give thanks to our Lord, Jesus Christ through the intercession of St. Benedict for His grace. At the same time, I pray for the artisans who have tolled to make this replica cross and for persecuted and oppressed priests. I pray for freedom and protection from all forms of evil and prejudice that are manifest in this world and those that we may encounter on a daily basis. St. Benedict, pray for us. Amen.

Kenny - Sept 2011
Related Links
Please check out the local article on Demonology and Spiritual Warfare. It's happening nearer to home than you thought:
http://catholicsdemonology.blogspot.sg/
http://www.catholic.org/featured/headline.php?ID=5493
http://www.washingtonpost.com/blogs/catholic-america/post/culture-war-over-catholic-identity/2011/06/22/AGJMcMhH_blog.html
www.fisheaters.com/sacramentalsintro.html
www.opusangelorum.org/formation/holyrosary.html
www.ourladyswarriors.org/prayer/15promise.htm
Photos Disclaimer
The images and photographs are provided to give you an overall impression of the products being offered for sale. Photographic equipment used such as cameras and lenses including lighting conditions may cause a slight change in the appearance and color of the product. All the products shown are sold in a "AS IS" basis. The photographs only serves as a reference and a guide to your purchasing decision. Interested parties are welcome to contact us to view the products at their convenience.
Authenticity of Gemstones
Our supplier has offered full guarantee on the authenticity of the semi-precious gemstone sold on this site. Full refund will be offered upon presentation of a SAC endorsed gemological lab report to certify that the gemstones purchased were contrary to what it was specified to be.
However, we like buyers to be aware that nearly all gemstones on the market today have been commonly lab treated to enhance their colour. Heat treatments are used universally to improve colour consistency, stability as well as durability.
At our prices, we do not claim that our semi-precious stones are the world's rarest and most valuable gems or 'jewels'. We are rosary makers, not jewelers. The semi-precious stones that we used are selected for having all the natural beauty of high grade expensive gemstones, but because they are not that rare, we can offer our rosaries at much lower cost. Our semi-precious stones are graded from A to AAA (Mostly flawless to flawless, bright coloration, very nicely drilled to perfectly drilled) in the category of semi-precious gemstones used in high quality costume jewelry and fashion accessories.
Please also note that all natural stones have slight variations in shade, colour, clarity, pattern and inclusions. Although we try to depict the stones in our pictures as accurately as we possibly can, different batches of natural stones will rarely look exactly the same. Please note that the features of the stones on our rosaries may differ slightly with different batches of shipment of our stocks.
Limitation of Liability
There are no warranties, either expressed or implied, or any kind with respect to products sold on this site. In no event shall the owners of this site be liable for special, indirect, consequential damages or injury arising from the products being sold on this site. We advise buyers to exercise due care, discretion and supervision for minors using the above products. Small components can represent a choking hazard and metal parts can cause abrasions if not used with due care.
Our imported medals, crucifixes and findings are made from either oxidised silver or silver/bronze plated zinc alloy that are lead, nickel and cadmium free. Our source metals are safe and commonly used in costume jewelry and fashion accessories worldwide.
After Sales Service
Limited only to replacement, adjustment or re-alignment of connecting hardware that have been damaged or may have been unfastened due to wear and tear on all of our products. We do not replace damaged or lost crucifixes, medals, beads, bead caps, clasps and other ornate parts that may have to be purchased separately if available. Also please read about caring for your gemstones below. Replacement of discolored gemstones due to improper care may also have cost implications.
Items with connecting hardware issues must be returned to us in its existing condition (eg. not modified or been tampered with). We reserve the right to charge additional repair charges as the case may be. Customers are responsible for all return shipping. We do not accept responsibility for items lost in transit if they have not been returned via registered mail.
Taking Care of your Rosary and Rosary Bracelet.
Please read.
When praying or wearing, protect your rosary and bracelet respectively from water, chemicals, perfume, direct sunlight and rough handling.
Never cause your wired bracelet to be bent at sharp angles as it should be maintained to keep its roundness to fit your wrist. Excessive bending especially at odd angles can cause wire fatigue, deformation and subsequent breakage. However, we now only use heavy duty rosary cords for rosary bracelets for more flexibility and durability. Also avoid accidental tugging, pulling or unnecessary tension when using your rosary or bracelets. Do not pull too hard when trying to put on the bracelet or getting tangled rosaries out of your handbag as it may cause the jump rings to open resulting in lost parts. Be gentle and never drop your rosary or bracelet on hard surfaces.
For cleaning, use a soft, dry cloth over the gem-stones to remove bodily oils and grit. Gently rub over stones and metal parts to restore the light shine. It is not recommended to wash your silver plated and gemstone jewelry in water as chemicals in tap water may tarnish the silver. Some gemstones are porous and may absorb water leading to discoloration. Avoid water especially on Rhodochrosite, Lapis Lazuli, Agates, Emerald, Coral, Howlite, Turquoise, Moonstone and Mother of Pearls. Always remove your silver gemstone jewelry before taking a bath or going swimming. When storing, avoid putting it in a place where it might be subjected to kinks, knots and possible deformation. Always store your rosaries in separate, dedicated compartment in your handbag to protect it from scratches and to avoid getting it tangled with other objects. Keep rosary bracelets in separate soft pouches and lay it flat with the clasps secured in your drawer or jewelry box. Store it in an air-tight container if possible or in a zip-block bag. This is to keep the moisture and humidity in the air out as it will tarnish the silver over time. Always wipe and fan dry your bracelets after being in the rain as the inherent chemicals in rain water will also tarnish the silver. Keeping your silver gemstone bracelet dry will prevent the silver from being tarnished. It will also ensure that the lustre of the gemstones are being preserved.
Finally, always inspect the jump rings for accidental openings, connectors and loops for any slippages after frequent usage or after accidental mis-handling or snagging. Most lost crucifixes and medals are due to accidental opening of the jump rings. Should your rosary breaks for any reason whatsoever, do try to recover the beads as lost beads may be difficult to to replace or match due to availability or colour inconsistency.
Treat your rosary and rosary bracelet as fine jewelry and when used with care, affection and devotion, your rosary and bracelet will last you a long time.
Customisation Policy
All of the items in this online shop can be customised to your individual desired design preferences and requirements.
A 30% prepayment will now apply for all custom requests. The balance of the cost will be paid upon collection of the finished customised product. We are now able to carry out customisation and re-orders in-house locally which can be completed within 2 days or earlier of your order. However, all custom requests are subjected to availability of parts and materials, if applicable. Requirement for prepayment can be waived if buyers sincerely promise to collect.
To determine your correct wrist size, measure the actual circumference of your wrist at the wrist bone for all rosary bracelet orders. Use a tape measure and please do not guess to avoid inaccurate measurements and disappointment. We will add the necessary allowances based on the actual wrist size given. Accuracy is important as subsequent request for resizing will be chargeable at $5.00 per bracelet.
Catholic gift shop Singapore, gifts for Valentine's Day, catholic gifts in Singapore
Sales Policy
As rosaries and rosary bracelets are very slow moving commodities, we cannot reserve any products unless payment has been made for it via bank transfer. We will have to release the products on a first come first serve basis. We seek your understanding on our predicament.
Also, please allow 2 days for re-stocking on all re-orders before collection. All rosaries and bracelets comes in organza gift pouches.
We strictly do not adopt 'hard sell' tactics as we believe in Divine Purpose, God's precious gift of free choice, and goodwill among men.
We also do not mark up our prices to allow for discounts. Our prices are reasonably fixed for this category of gemstones rosaries.
All orders which are not collected within one week will be put on sale on our website. Customised orders which are not collected will be dismantled and restrung into our standard rosaries and put on sale accordingly.
"In everything give thanks; for this is God's will for you in Christ Jesus" - Thassalonians 5:18
For Singapore Buyers
We do not have a retail shop as we are not a big business and we cannot afford the rent nor can we sustain a living on slow moving merchandise.
We are just a small part-time Catholic endeavor promoting devotion to the Blessed Virgin Mary through the Rosary.
Please feel free to contact us if you wish to personally view any of the above items.
Cash and carry available in Singapore only. We are located in Toa Payoh.
To order, simply cut and paste the description or picture of the items that you want in your email and sent it to our email address below and we will get back to you as soon as possible. If you do not get our reply, please check your trash folder. Thank you.
We accept only cash payment for self collection and strictly no bank transfers or cheques on the day of collection will be accepted.
For local mail order and delivery via local registered non-standard mail in Singapore, we accept money transfers via DBS/POSB banks (preferred).
Please add SGD 5.00 per batch purchases to cover registered local mail postage, packaging and handling.
Local delivery time will be around 2 to 3 days. Please note that the post office's maximum compensation liability is SGD 68.00 per package for lost registered items.
Please email us your order before making payment.
For payment through

and local delivery via local registered non-standard mail in Singapore, please add 8% to total costs (including registered postage, packaging and handling costs) for Paypal transaction charges.
Please email us your order before making payment.
Express courier delivery available to selected local locations in Singapore at SGD27.00. Please enquire.
Viewing of Rosaries
For those who wish to view our rosaries before buying, please do not expect to view in a plush air-conditioned shop at the shopping mall. We regret that viewing will be carried out at the void deck of our residence as we do not have a shop. Viewing/collection is usually after 6.30pm on weekdays and anytime on weekends by appointment only. Viewing is limited to the rosaries that we have in stock. We suggest that viewers shortlist the rosaries that they prefer and sent us the list before coming to view. Rosaries marked as 'Orders accepted, please enquire' have to be pre-ordered and are not available for viewing.
For International Buyers
We accept

for all international transactions (preferred). For international registered mail, an indicative cost for a rosary would be SGD 7.60 for postage, packaging and handling. Additional 8% Paypal transaction charges will apply as we do not factor in this cost into the cost of our rosaries or shipping for transparency. Delivery period will be about 10 working days, excluding customs clearance in your country.
We also accept payment via hassle-free

international money transfer/remittance service. Pls notify us before remitting the payment.
We now accept overseas payment via VISA personal payments.
Please notify us if you wish to pay via the VISA network, and we will provide the necessary details for you to make the payment.
Please e-mail us your order before making payment and we will advise actual shipping cost depending on the total order quantity.
Please also enquire when purchasing multiple items for optimal batching and packaging.
We ship to United States, South America, Canada, UK, Europe, Australia, New Zealand, Japan, Philippines, Indonesia and Malaysia.
For other destinations, please enquire.
Shipping
Kindly note that shipping does not include insurance.
We maintain a no-return policy and do not take any responsibility once the goods leaves our hands at the post office.
However we will forward a copy of the shipping documentation as proof of dispatch/delivery and for tracking purposes.
Please note: The post office has a maximum liability value of SGD 68.00 per package for lost registered articles.
For all enquires, orders or assistance, please contact Kenny at kennykhoocs@singnet.com.sg
More interesting items will be added soon. So watch this page!!!
Dominus vobiscum, Et cum spiritu tuo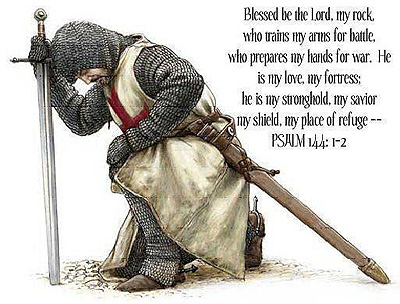 Catholic shop Singapore Catholic gift gifts shop store Singapore Catholic online shop store Singapore Catholic items products for sale Singapore Catholic shop store in Singapore Catholic unique hand made gifts shop online in Singapore
Christmas day gifts Singapore birthday gifts Singapore Anniversary gifts Singapore mothers day gifts Singapore Fathers day gifts Singapore Valentines day gifts Singapore Easter gifts Singapore Christmas gifts
Catholic gift shop Singapore religious items Singapore catholic gift store products Singapore roman catholic churches Singapore Rosaries Singapore Rosary Singapore Rosaries Singapore Rosary Singapore Rosaries Singapore
Catholic gifts for Christmas Singapore Catholic gifts for Valentine's day Singapore Catholic gifts for Christmas Singapore Catholic gifts for birthdays Singapore Catholic gifts for Christmas Singapore Catholic gifts for ladies girls
Easter gifts catholic Easter gifts Singapore catholic gifts shop Singapore catholic gifts store Singapore catholic gifts retail in Singapore Easter gifts catholic suppliers for gifts Singapore catholic presents for Easter gifts
Samsung Galaxy Note 2 Samsung galaxy Samsung Galaxy Note 2 Samsung galaxy Samsung Galaxy Note II 2 Samsung galaxy Samsung Galaxy Note 2 Samsung galaxy Samsung Galaxy Note Samsung galaxy 2
iPhone 5 iPad5 iPhone 5 iPad5 iPhone 5 iPad5 iPhone 5 iPad5 iPhone 5 iPad5 iPhone 5 iPad5 iPhone 5 iPad5 iPhone 5 iPad5 iPhone 5 iPad5 iPhone 5 iPad5 iPhone 5 iPad5 iPhone 5 iPad5
Singapore gemstone rosaries rosary semi precious stone rosaries rosary designer rosaries rosary pearl rosaries rosary crystal beads 2013 fall fashion designer bracelets 2013 winter fashion designer bracelets
2013 spring fashion designer bracelets 2013 summer fashion designer bracelets 2013 fall fashion designer bracelets 2013 winter fashion designer bracelets 2013 spring fashion designer bracelets 2013 summer fashion designer bracelets
Christmas day gifts Singapore birthday gifts suggestions Singapore Anniversary gifts suggestions Singapore mothers day gifts suggestions Singapore Fathers day gifts Singapore Valentines day gifts Singapore Easter gifts Singapore
Christmas day gifts Singapore birthday gifts Singapore Anniversary gifts Singapore mothers day gifts Singapore Fathers day gifts suggestions Singapore Valentines day gifts suggestions Singapore Easter gifts Singapore
Christmas day gifts Singapore catholic birthday gifts Singapore catholic Anniversary gifts Singapore catholic mothers day gifts Singapore Fathers day gifts Singapore Valentines day gifts Singapore Easter gifts Singapore