Church of, Archdiocese, shop in Singapore, shopping, for sale
Catholic Collectibles
Online Gift Shop
Singapore
United States, Mexico, France, Spain, Portugal, Monaco, Brazil, Argentina, Chile, Croatia, Ireland, Philippines
Updated 22 March 2017
table, wall cross, crucifix, crucifixes, pendant, figurines, bible, missal, scapulars, jewelry, first communion, confirmation, baptism, altars, paintings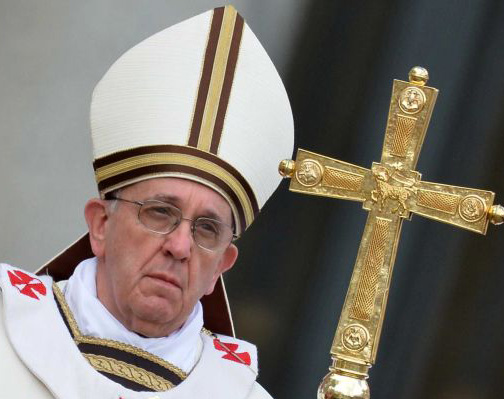 Franciscus, Episcopus Romae
religious statues, statuettes, auto, car, key chains, holy water bottles, fonts, church shop, for sale, chalice, blessed candles, candle stand, mementos
Products in this online store are inspired creations for sharing with members of the Catholic church.
Faith-inspired gifts ideal for Christmas, Easter, Birthdays, Anniversaries, Mother's Day or as Valentine's Day gifts.
Our rosaries and chaplets are now exclusively being designed and crafted locally here and will not be available anywhere else.
All of these pieces are handcrafted and most are one-off items that could not be duplicated due to the limited availability of gemstones.
Rosaries on this website are limited edition, unique and are of exceptional quality for local distribution in Singapore and for Catholics worldwide.
Collectibles displayed in this shop are our full collection which we like to share with all who are devoted to the Catholic faith and its traditions.
Our underlying aspiration for this site is to strengthen Catholic Identity among the Catholic laity.
"You are the light of the world. A city on a hill cannot be hidden" Matthew 5:14
America, USA, Rhode Island, Massachusetts, New Jersey, Connecticut, New York, New Hampshire, California, Brazil, primary school registrations
Sacramentals and Devotionals
Baptism, Confirmation, First Holy Communion gifts, shop Singapore Catholic shop Singapore, Baptism gifts, Catholic gifts Singapore, Confirmation gifts
Rosary Wisconsin, New Mexico, Illinois, America, USA,
rosary Jakarta, Indonesia, Rosario Jakarta, Indonesia
rosary USA, America, New York, rosary California, America, United States
Catholic Feast Days and Rosaries 2017
Catholic Baptism gifts, Spain, Barcelona, Madrid, Tenerife, Majorca,Valencia, La Oliva, Seville, Llanes, Granada
March 2017
Month of St Joseph
Catholic gifts in Wisconsin, Pennsylvania, Nebraska, Florida, New Mexico, Vermont, Maine, Minnesota, Colorado, Hawaii, Montana, Nevada, Ohio, Iowa.
Catholic shops, rosaries, Cape Verde, Malta, Monaco
Season of Lent
(Quadragesima)
Memento Mori Skull Rosary
1st March 2017 - Ash Wednesday
Skulls are used in rosaries and chaplets back in the late middles ages (1066 to 1485). The custom was especially popular from the 15th century to the middle of the 19th century in Italy, Germany and Mexico with religious priests and nuns. These rosaries are known to originate from mediaeval North Western Europe (Denmark, Germany, Netherlands and Belgium). Skull rosaries relates to the Latin phrase "Memento Mori" meaning "Remember that you must die". It is a reminder both of our mortality and the judgment that will follow our death. Memento Mori reminds us of the rite we hear being proclaimed on Ash Wednesday as ashes are being outlined in the form of a cross on our foreheads. Memento Mori reaffirms our need to appreciate the gift of life and a new opportunity for positive change each day. Some of these rosaries are referred to as Atonement or Purgatory rosaries. Such rosaries usually bear the Pardon Crucifix as it is a powerful symbol to the souls in purgatory.
The rosary above comes in rustic Jasper Aves and bronze accentuated Turquoise skull Paters. The center piece bears the Holy Face of Jesus and the cross is a rare mediaeval styled 2 inches crucifix. Oxidised silver Pardon Crucifixes are available as an option upon request.
SGD 54.00
(Please enquire - Limited Edition - only few pieces available)
Canada, Beverly, Toronto, United States, rosary, rosaries and catholic rosary shops, Ave Marias Circle, rosary making supplies Canada, Catholic church. The bible, jewelry, gift ideas, anniversary gifts, valentine's day gifts, unique gifts, christening gifts, mother's day gifts, gifts for birthdays, jewelry gifts, gifts for her, religious gifts.
Anniversary of the Election of Pope Francis
13 March 2017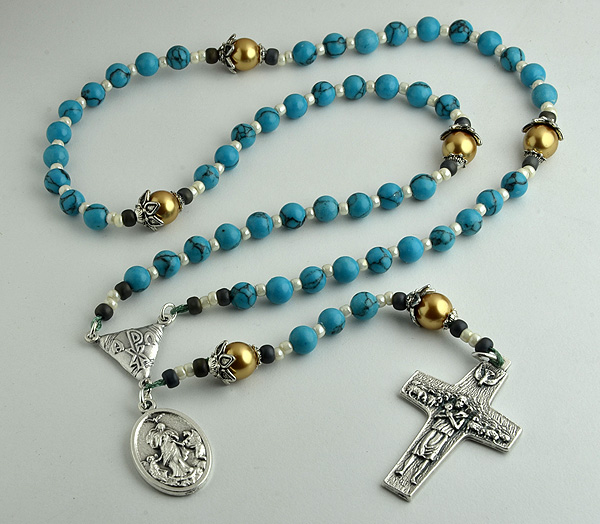 "The Rosary is a prayer that always accompanies me; it is also the prayer of the ordinary people and the saints...it is a prayer from my heart" - Pope Francis, 'II Rosario. Preghieradel cuore', dtd 13 May 2014,
Commemorative rosary in blue turquoise with gold Swarovski crystal pearls adorned with 'Chi Rho' Alpha Omega centerpiece and rare Our Lady, Undoer of Knots medallion, terminating in a 1.6 inches Pope Francis official cross. This cross depicts Christ the Good Shepherd leading the flock and carrying the lost sheep on his shoulders. On the top of the cross is depicted the Holy Spirit. The rosary can be customised with any other stones if so desired.
SGD 65.00
(Orders accepted, please enquire)
Catholic baptism, baptismal. christening gift ideas, personalize, custom gifts in United States, Massachusetts, Connecticut, New York, Texas, Arizona, Illinois, Wisconsin, Pennsylvania, Nebraska, Florida, Maine, Minnesota, Colorado, Hawaii, Nevada, Ohio, Iowa
Our Lady of the Fountain Life Giving Spring, Constantinople
16 March 2017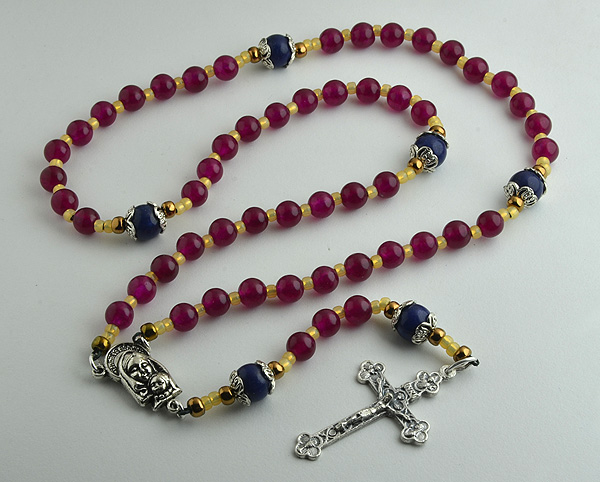 The Shrine and Church of Our Lady of the Fountain was built by Emperor Leo of the Byzantine Empire in the year 460, in thanksgiving for the Virgin Mary who appeared to him on a margin of a spring when he was leading a blind man to quench his thirst. He was only a soldier then, when the Blessed virgin told him that he would be emperor. The blind man regain his sight when his eyes was anointed by the waters of the spring as was instructed by the Virgin Mary. Many miraculous healings began to occur through the intercession of the Mother of God when the church was built.
The above rosary was inspired by Our Lady of the Fountain episode and was created in Rose Alexandrite Aves and Lapis Lazuli Paters with Mother and Infant Jesus center and Byzantine budded crucifix.
SGD 48.00
(Currently available)
Baptism, Christening, baptismal gifts, rosary, bracelets, necklace, chaplets for sale in England, Wales, Scotland and Northern Ireland, Moyle, Limavady, Derry, Magherafelt, Strabane, Cookstown, Omagh, Dungannon, Armagh, Fermanagh, Newry, Mourne, Down, Ireland, England, Wales, and Scotland, Isles of Wight.
Saint Patrick's Tenner Rosary
17 March 2017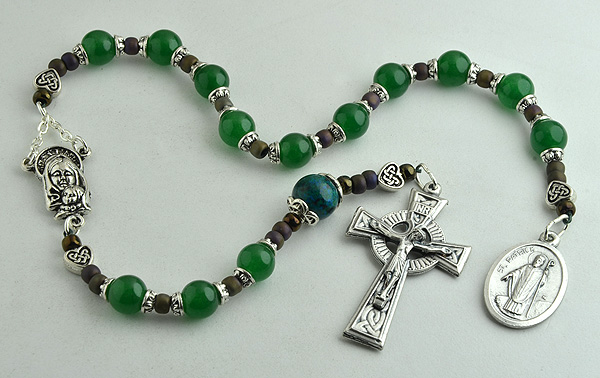 Saint Patrick was credited with bringing Christianity to Ireland. The shamrock was used by St Patrick to explain the concept of the Trinity to the pagans. It is said that he converted the Druids and abolished their pagan rites. St Patrick's Day is celebrated on March 17 each year. Green is a color that is associated with St Patrick and green became the color of Irish nationalism.
The above Tenner rosary was designed in 6mm green emeralds with an 8mm azurite chrysocolla Pater. The Tenner comes with a Celtic crucifix, Virgin Mary and the Child Jesus centre piece and terminates with the St Patrick's medal.
SGD 40.00
(Orders accepted, please enquire)
Catholic Gift shop in Rhode Island, New Jersey, Massachusetts, Connecticut, California, New York, New Hampshire, Texas, Arizona, Illinois, Louisiana, baptism gifts, christening personalize customized gifts
Chaplet of Saint Joseph
Patron Saint for families, fathers, property agents, the unemployed and all working people.
19 March 2017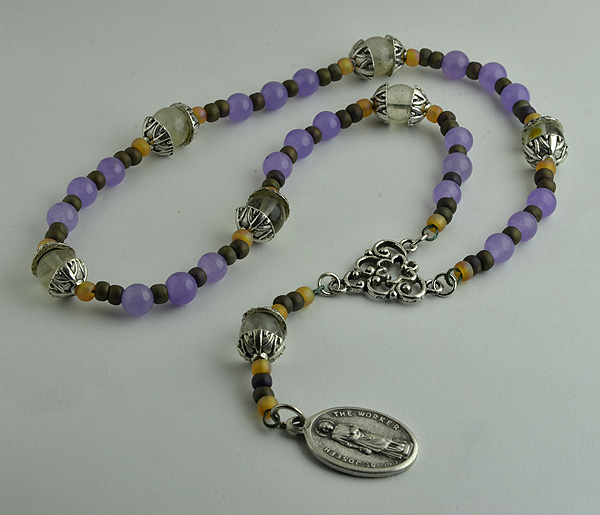 Catholic Collectibles Singapore is please to promote this uncommon devotion to St. Joseph. This is known as the Seven Sorrows and Joys of St. Joseph. It is an excellent means of obtaining special favors through the intercession of St. Joseph by honoring his seven sorrows and seven joys by the devotion of the seven Sundays. This devotion may be practiced at any time of the year, but fervent followers of St. Joseph like to venerate him especially on the seven Sundays preceding his Feast Day. Tradition has it that the devotion started when 2 Franciscan fathers were saved by St. Joseph after they prayed for his intercession when their ship was sunk during a violent storm at sea.
Get the prayers for the chaplet at: http://chapletsrosariesandlitanies.blogspot.sg/2011/03/st-joseph-chaplet-of-seven-sorrows_22.html
The above chaplet was created with Tourmaline and Purple Jade gemstone beads with the medal of Saint Joseph.
SGD 40. 00
(Orders accepted. Please enquire)
Catholic baptism, christening, baby, infant, personalized gifts, for boys, for girls. Baptism gift ideas, invitation, confirmation, religious, Catholic, gifts. Catholic store online, products, United States, Ireland, silver, antique, new baby, keepsakes, bible gifts, rosary beads, house, inspirational gifts, black rosary, for Catholics, crucifix, crosses for sale, Catholic saint store.
Saint Joseph
"Terror of Demons"
19 March 2017
Finally Arrived
Citing the Venerable María de Ágreda in her book The Mystical City of God, we learn the following consoling revelations about St Joseph:
• "First, those who invoke him shall obtain from God, by his intercession, the gift of chastity, and shall not be conquered by the temptation of the senses;
• Secondly, they shall receive particular graces to deliver them from sin;
• Thirdly, they shall obtain a true devotion to the Blessed Virgin;
• Fourthly, they shall have a good and happy death, and in that all-decisive moment be defended against the assaults of Satan;
• Fifthly, they shall be delivered when expedient for them, from bodily sufferings, and shall find help in their afflictions;
• Sixthly, if married, they shall be blessed with offspring;
• Seventhly, the demons shall have extreme dread of the glorious name of St. Joseph.
With so many graces to be obtained through his powerful intercession, let us not tarry nor hesitate in asking humbly for the protection and aid of dear St. Joseph, Terror of demons!
But evil shrinks from Joseph for a related reason. He is pure. Joseph is pure of body. Pure of heart. Pure of intention. Pure and sinless because he battled Original Sin. Joseph's job, when Christ was a child and up to this very day, is to protect the Holy Family, and through our baptisms, we are part of his family. So Joseph protects us. He will calmly raise his hand and keep the demons away, if you but ask him.
Those who turn to Saint Joseph for his powerful intercession and good example do much to keep Satan and the other wholly corrupt devils at bay. In this sense, Joseph is the Terror of Demons because when the friends of Jesus avail themselves of his salutary influence, Saint Joseph is for them a sure protection against the oppressive wiles of the Prince of Darkness. (ref: www.saintmichaelusa.org)
"The whole human race has much undervalued the privileges and prerogatives conceded to my blessed spouse and they know not what his intercession with God is able to do. I assure thee, my dearest, that he is one of the greatly favored personages in the divine presence and has immense power to stay the arms of divine vengeance...on the Day of Judgment, the condemned will weep bitterly for not having realized how powerful and efficacious a means of salvation they might have had in the intercession of St. Joseph, and for not having done their utmost to gain the friendship of the Eternal Judge." – Our Blessed Mother to Venerable Mary of Agreda.
Prayers for the rosary can be found at http://www.movingheartfoundation.com/Chaplet%20and%20Prayers%20of%20St.%20Joseph.pdf
Rosary is designed in green gemstones with wooden Paters to signify St Joseph's humble life as a carpenter. The rosary is adorned with St Joseph with Infant Jesus centerpiece and rare Virgin Mother with Jesus crucifix.
SGD 56.00
( One piece immediately available)
Chaplet of the Seven Sorrows of Mary
25 March 2017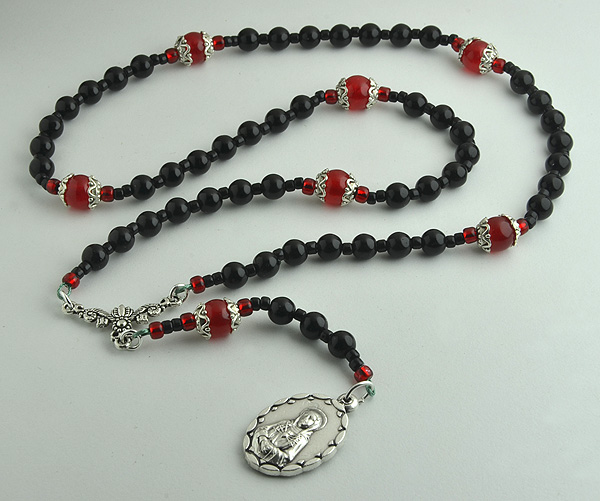 It was revealed to Saint Bridget (1303 to 1373) that the Blessed Virgin Mary grants seven special graces to those who honor her daily by saying seven 'Hail Marys' and meditating her tears and dolors (sorrows). This devotion originates from the Order of the Servants of Mary in circa 1233, Italy. The chaplet is also known as the Sevite rosary. The prayers for the chaplet can be found at http://www.7dolors.com/7dchaplet.htm
The above seven sorrows chaplet was created in red and black agate attached with a rare traditional Seven Sorrows medal with crucifixion scene on the flipside.
SGD 48.00
(Orders accepted, please enquire)
Our Lady of the Holy Cross, Jerusalem
31 March 2017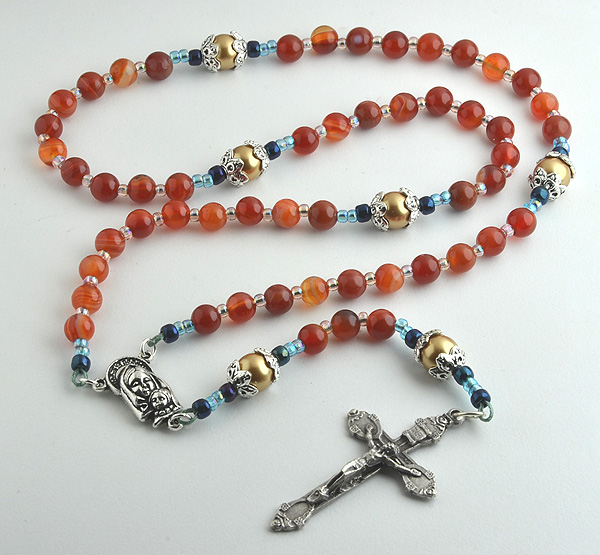 This title refers to a part of Our Lady's veil kept at the Roman Basilica of the Holy Cross "in Jerusalem". It is said that the floor of the church was built on soil from Jerusalem. Tradition has it that St Helena, mother of the emperor Constantine has brought back many relics from the Passion of Christ and the Nativity of Christ to Rome when she was at the holy land during the year 326.
The above is made from 6mm Red stripe agate and gold Swarovski crystal pearls Paters with rare crucifix.
SGD 48.00
(Orders accepted, please enquire)
Our Lady of Light, Zeitoun, Egypt
2 April 2017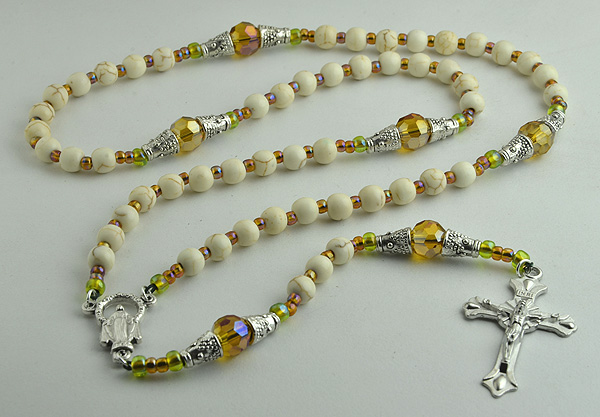 The Blessed Virgin Mary appeared in an apparition on the dome of Saint Mark's Coptic church dedicated to the Holy Family in Zeitoun, Cairo Egypt. The Catholic Church in 1968 approved the apparition as a visitation of the Mother of God. Read more about the apparitions at http://www.marypages.com/ZeitoenEng.htm
The above rosary is dedicated to Our Lady of Light and is created in white turquoise, topaz crystals with the figure of OLO the BVM and ornate crucifix.
SGD 48.00
(Orders accepted. Please enquire)
Divine Mercy
7 April 2017
"Let the weak, sinful soul have no fear to approach Me. For even if it had more sins than the grains of sand in the world, all would be drowned in the unmeasurable depths of My mercy"...Jesus, according to St Faustina, February 22, 1931.
According to Saint Faustina, praying the chaplet of the Divine Mercy has three purpose. To obtain Christ's mercy, to trust in Christ's mercy and to show mercy to others. All those who recite this chaplet at the hour of death or in the presence of the dying will receive great mercy. "I will stand between My Father and the dying, not as just the judge but as the Merciful Saviour". Prayers for the chaplet of Divine Mercy are found at http://www.catholicity.com/prayer/divinemercy.html
"I want the whole world to know My Infinite Mercy. I want to give unimaginable graces to those who trust in My Mercy..." - Jesus, in a vision according to Sister Faustina, Sept 13, 1935.
The above Divine Mercy chaplet/rosary is made of quartz rock crystals, blue aquamarine and red agate with oxidised silver Divine Mercy center with "Jesus, I trust in You" inscribed on the back and ornate crucifix.
SGD 48.00
(Orders accepted. Please enquire)
FIAT of Mary
8 April 2017
FIAT of Mary - "Let it be done unto me according to thy word."

Blue Alexandrite with Swarovski Lt Azore AB crystal Pater traditional 5 decade rosary. Adorned with ornate crucifix and rare FIAT medal center piece struck with the Holy Spirit dove on the flipside.

Goto this link to find out more about the symbols inscribed on the FIAT medal.

SGD 46.00

(Out of stock. Ave beads are no longer available - Can be customised with other Ave beads of your choice)
Good Friday
14 April 2016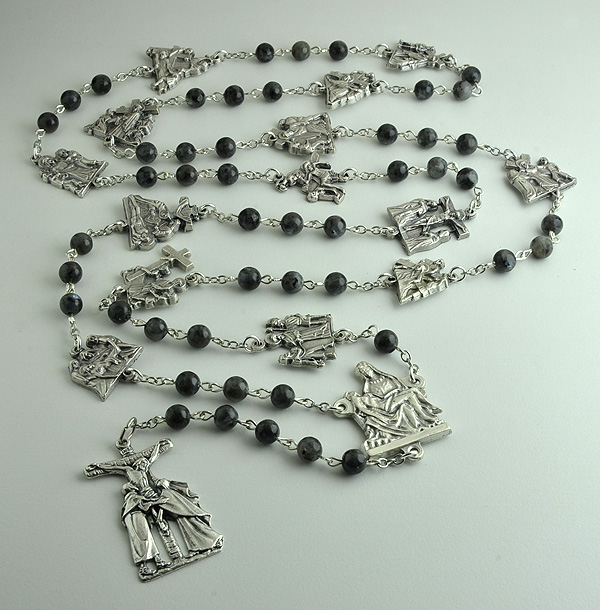 Via Crucix
Traditional Way of the Cross Chaplet
When moslems occupy the Holy Land in the late middles ages, pilgrims are no longer able to retrace the path Jesus suffered to Calvary. These stations then were recreated in churches using crosses or representative sculptures or bias reliefs. Persons who are unable to make the stations at the church will also be able to gain indulgences holding a crucifix and prayer beads indulgenced for the Stations and saying the Our Father, Hail Mary and Glory be, once for each Station (14 times) and 5 more sets for the Holy Wounds of Christ plus one more for the intentions of the Pope.
The traditional Way of the Cross chaplet bears the traditional, imported 14 Stations with Roman numerals on the back, rare Pieta centerpiece and rare traditional Stations of the Cross crucifix.
The chaplet was made with rare Black Labradorite and traditional silver plated connecting links. The chaplet was designed according to the traditional standards used and the meditations are according to St Alphonsus Ligouri.
Kindly contact us if you need the prayer sequence for the above chaplet.
SGD 172.00
(New stock available. Please enquire)
Easter Sunday
16 April 2017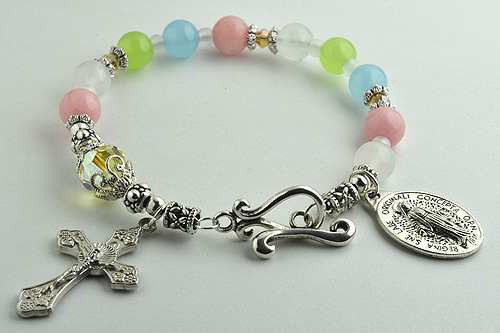 Colourful multi-gem Miraculous Easter Bracelet. Designed with Jades, Peridot and Aquamarine gemstones, filigree capped Jonquil Swarovski crystal Pater, Ornate crucifix and Miraculous Medal. Bracelet size: 7.5 inches
SGD: 38.00
(Orders accepted, please enquire)
Madonna Della Strada
Ad Maiorem Dei Gloriam
22 April 2017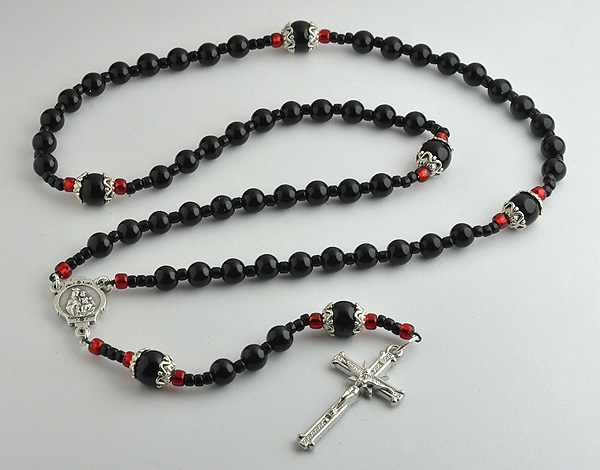 Madonna Della Strada or Santa Maria Della Strada means 'Our Lady of the Way'. She is the patroness of the Society of Jesus. Tradition has it that the society's founder, Saint Ignatius Loyola has been protected by the intercession of the Blessed Virgin Mary while in battle when he was a soldier. The Society of Jesus is a male religious congregation of the Catholic church. The members are called Jesuits who are tasked in evangelization and apostolic ministry throughout the world. Jesuits professed vows of poverty, chastity and obedience to the Pope. It's motto reads 'Ad Maiorem Dei Gloriam' which means 'For the Greater Glory of God'. The icon of the Madonna is enshrined in the chapel of Jesu, the mother church of the Jesuits in Rome. The feast day of the Madonna is on 22nd April. Jesuits are traditionally recognised as missionaries in black robes called cossacks.
The above rosary is dedicated to the Madonna Della Strada or the Mother of God of the Society of Jesus, designed in black agate with Our Lady and Child Jesus center piece with the colonial Spanish crucifix.
SGD 46.00
(Orders accepted, please enquire)
Our Lady of Victories
23 April 2017
Commemorating the victory of the Holy League at the Battle of Lepanto against the Ottoman Turks in 1571. The victory was attributed to the Blessed Virgin Mary as a rosary procession was offered at St Peter's Square in Rome under the direction of Pope Pius V during the heat of the battle. Please read about the power of the rosary at www.opusangelorum.org/formation/holyrosary.html
The above 'Tenner' pocket rosary was created in 8mm multicolor Howlite to simulate the colours of battle flag of the Holy League. The Tenner was finished with a red AB Swarovski crystal Pater, period crucifix and rare Queen of the Most Holy Rosary medal.
SGD 38.00
(Orders accepted, please enquire)
Our Lady of Good Counsel
26 April 2017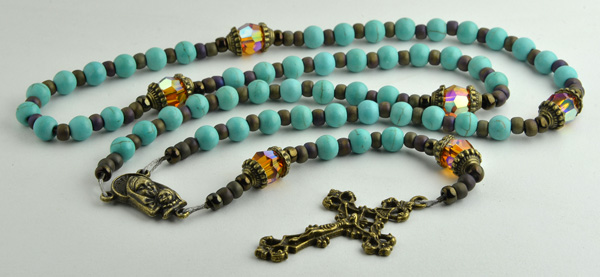 Turquoise Aves and Swarovski AB Topaz crystal Paters make up this antique look bronze rosary which is dedicated to Our Lady of Good Counsel. Decorated with Our Lady of Good Counsel center piece and rare bronze filigree crucifix. To find out more about the miraculous appearance of Our Lady of Good Counsel, please click here.
SGD 48.00
(Limited stocks - currently available)
Our Lady of the Almudena
Nuestra Senora de la Almudena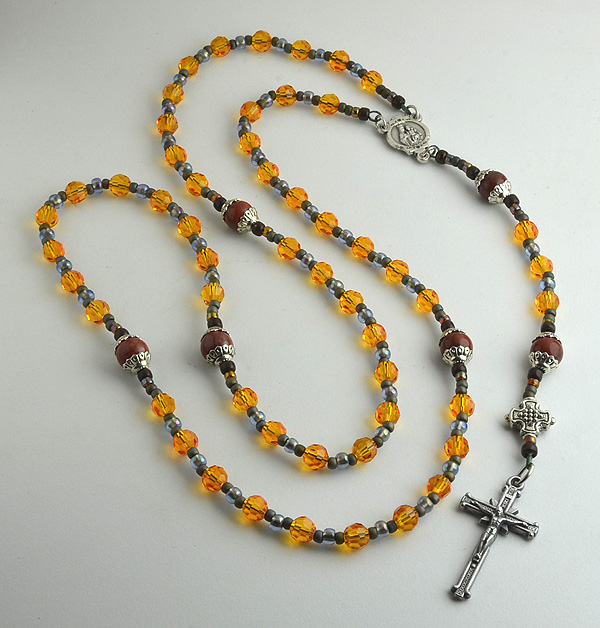 New Arrival
Our Lady of Guadalupe in Mexico bears a resemblance to another statue, Our Lady of the Almudeña where she was also depicted as standing on a crescent moon. The latter's story was that her statue was originally brought to Spain by St. James and was housed in a Church in Madrid for centuries until the Islamic conquests. Catholics hid the statue under a local granary. Nearly four centuries later when Madrid was re-conquered in 1085, the statue was discovered by locals during a prayer procession around the city when part of a wall crumbled and revealed the statue with two lighted candles which had miraculously been burning for 300 years within the city walls. The church was rebuilt and the statue restored to its rightful place. Catholics would be wise to seek her prayerful inspiration when conversing and contending with the sectarian strife that exist today, just as did the Spanish Catholics of ages past.
This rosary incorporates the Blessed Virgin Mary with Infant Jesus centerpiece with credo cross and crucifix. The sign of cross is made with the crucifix and the credo cross is where the Creed was traditionally recited. Ave beads are orange topaz colored round crystals with red jasper Paters. The colonial Spanish crucifix is in dark tone oxidized silver. Can be worn as a necklace as an expression of faith if so desired.
SGD 62.00
(Limited edition)
Our Lady of Lujan
8 May 2017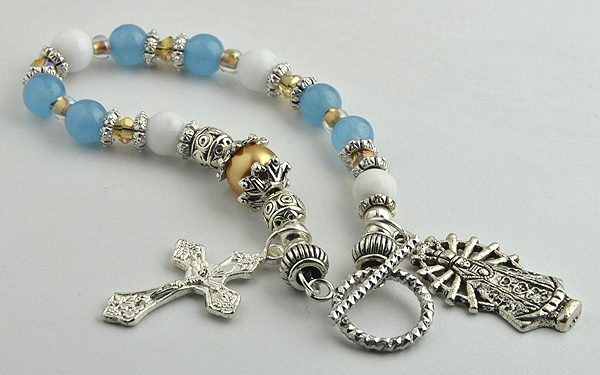 OLO of Lujan rosary bracelet.
The story is about a mule that refuse to move and a disappearing statue of Our Lady.
Also available as soft strung cord beaded rosary bracelet (Kindly specify your bracelet size)
SGD 38.00
(Orders accepted, please enquire)
Our Lady of Fatima
"There is no problem, I tell you, no matter how difficult it is, that we cannot solve by the prayer of the Holy Rosary"
- Sister Lucia of Fatima
13 May 2017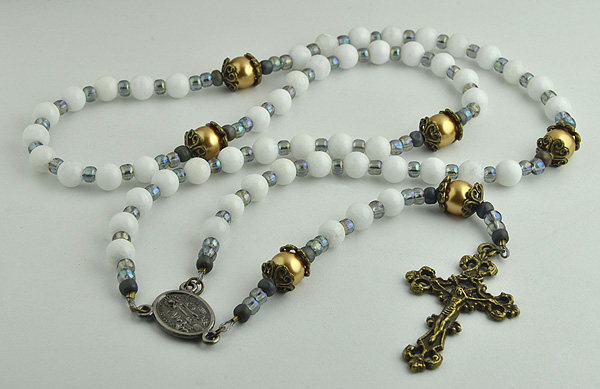 "You must recite the Rosary everyday in honor of Our Lady of the Rosary to obtain Peace in the world..." - Lady of Fatima, July 13, 1917.
White Jade and Swarovski gold crystal pearl Pater Lady of Fatima rosary. Adorned with bronze filigree bead caps, ornate bronze filigree crucifix and replica of an antique 11th century Portuguese Lady of Fatma medal center piece. Fatma was the Moorish named of the town before the Christian Reconquisita, after which evolved to the 'Fatima' of today.
SGD 48.00
(Please enquire - Limited stocks, only 3 pieces filigree crucifixes left in bronze finish.
New round bronze plated Fatima Portuguese centerpiece available. Also available in silver finish.)
Our Lady of the Most Blessed Sacrament
13 May 2017
Latest Arrival
Virgin Immaculate, Mother of Jesus and our Mother. We invoke you under the title of Our Lady of the Most Blessed Sacrament because you are the Mother of our Saviour who lives in the Eucharist. Pray for us.
This rosary is dedicated to Our Lady of the Most Blessed Sacrament. Created in green turquoise and pink alexandrite with Blessed Sacrament Host and Chalice center and French fleur-de-lis crucifix.
SGD 48.00
(2 nos currently available. Crucifix will be out of stock after available rosaries are sold)
Mary, Comfort of the Afflicted
15 May 2017
This title was established in Germany in 1641. Legend speaks of a mysterious voice and vision that led to the purchase of a painting of the Blessed Virgin Mary that is house in a church in Kevalaer, Germany. The title has many variants; including Mary, Consoler of the Afflicted; Our Lady, Help of the Afflicted; Lady of Divine Pity; Our Lady of Consolation; Our Lady of the Forsaken etc.
SGD 48.00
(Orders accepted. Please enquire)
Novena to St Peregrine
16 May 2017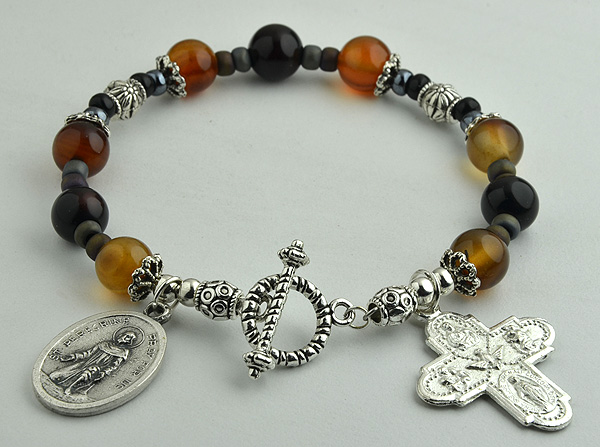 Novena chaplet dedicated to St. Peregrine. Patron of Cancer Patients.
3 sets of 3 beads in 8mm Natural Brown Agates. 4-way Holy Spirit cruciform cross (26mm) and St Peregrine Medal (21mm).
Bracelet size: 19.0cm (approx. 7.5 inches). For other wrist sizes, please e-mail us.
Also can be designed as a single straight strung pocket chaplet.
SGD 38.00
(Orders accepted, please enquire)
Pentecost
Chaplet of the Holy Spirit
20 May 2017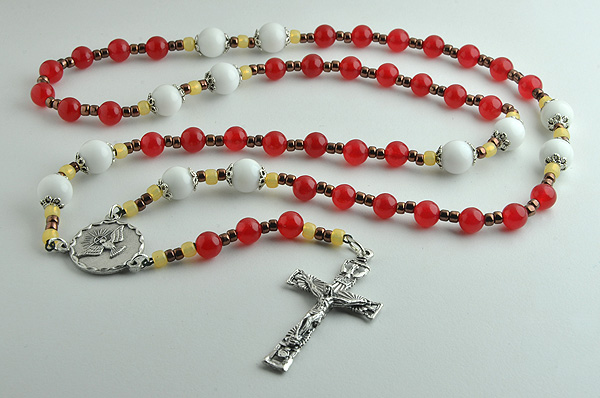 Latest Arrival
The Chaplet of the Holy Spirit was first created in 1892 by a Franciscan Capuchin missionary to provide the faithful with an easy means of honoring the Holy Ghost. Its was approved by Pope Leo XIII in 1902.
Prayers for the Holy Spirit Chaplet can be found at http://www.catholictradition.org/Litanies/litanies1b.htm
SGD 46.00
(Orders accepted, please enquire)
Our Lady Help of Christians
Sancta Maria Auxilium Christianorum
24 May 2017
Instituted by Pope Pius VII in 1815, it became a Roman Catholic Marian devotion which was adopted by the Papal States and was spread nearly over all of the entire Latin Church. This devotion has it's history during the defense of Europe from the Ottoman Empire in the 15th Century. The observance of the feast day focuses on the role of Our Lady's intercession for the fight against sin and her assistance to the Christian community against anti-Christian forces. The Virgin Mary under this title is also venerated by Chinese Catholics in China at the shrine of Our Lady of Sheshan.
The above rosary is dedicated to Our Lady Help of Christians and was created in turquoise and Swarovski Cream Rose crystal pearls with the crowned Virgin Mary and Infant Jesus center piece and European Baroque styled Crucifix.
SGD 48.00
(Orders accepted. Please enquire)
Our Lady of the Highway
24 May 2017
The devotion to Our Lady of the Highway is centered on a shrine built along the interstate route 55/ Route 66 in Illinois, USA. The shrine continued to be honored by Catholic groups and road users can view the tribute to the Blessed Virgin Mary under this title as a historic icon of Route 66 and as a testament to the Holy Mother for her guidance and protection.
This single decade car rosary is in honor of Our Lady of the Highway and was created in 6mm Russian amethyst and 8mm black agate gemstones with a Chi Rho center piece and Our Lady of the Highway medallion. Total length of the rosary is about 8.20 inches.
SGD 38.00
(Orders accepted, please enquire)
Mary, Queen of All Saints
Regina Sanctorum Omnium
31 May 2017
"She shall be admired in the Holy Assembly, and in the multitude of the elect she shall have praise; and among the blessed she shall be blessed."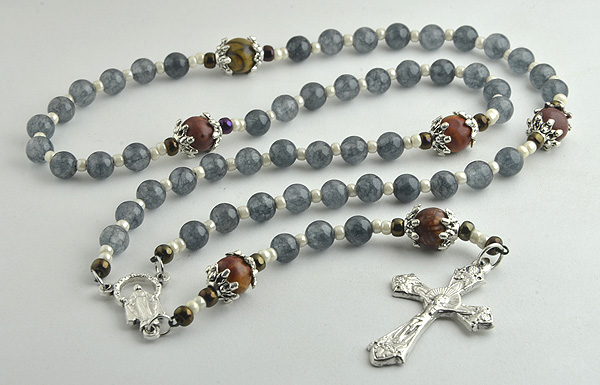 "When she became the Mother of the Creator, she truly become the Queen of every creature..." ; St John Damascene.
The rosary above is dedicated to the Blessed Virgin Mary under the title of Mary, Queen of All Saints and is created in grey tourmaline and picasso jaspers with the Blessed Virgin Mary center and decorative Crucifix.
SGD 56.00
(Limited stocks, please enquire)
The Virgin Mary, Mediatrix of All Graces
31 May 2017
"I am the Mediatrix between you and God" - Blessed Virgin Mary, Medjugorje, 17 July, 1986
Rosary dedicated to the Blessed Virgin Mary, intercessor and Mediatrix.
Rare float grass agate Aves with red carnelian agate pater bronze rosary with oval cut-away miraculous center and Holy Spirit crucifix. Only one available.
SGD 56.00
(Out of stock)
More rosaries can be found Here and

Rosario Indonesia, Jakarta, East Nusa Tenggara, Rosario Java, Muntilan, rosary Malaysia
Catholic shop Singapore, First Holy Communion gifts
Catholic gifts Singapore, Baptism gifts, Confirmation gifts, Infant baptism gifts, Christening Gifts, Catholic online shop, rosary USA, United States of America, CA, California, America, Rosario Indonesia, Jakarta
Important note:
All of the above articles have not been blessed.
Please proceed to your parish priest to get the liturgical rite of blessing carried out for the devotional articles that you have purchased as soon as possible.
Sacramentals should be used with Faith and Devotion.
"Sacred objects, set aside for divine worship by dedication or blessing, are to be treated with reverence. They are not to be made over to secular or inappropriate use, even though they may belong to private persons" - Canon 1171, Code of Canon Law.
"...do everything for the Glory of God" - 1 Corinthians 10:31
Catholic shop Singapore, Baptism gifts, rosary USA, America, united states of America, CA, California,

Ex-stock items and more can be viewed in our archive photo albums at the above link.
Kindly e-mail us the items you wish to have and we will re-order the ex-stock items for you if it is available.
Catholic gift shop Singapore, gifts for Christmas, gifts for Valentine's Day, catholic gifts in Singapore
Commentary
St. Benedict Crucifix
This is a replica of an Italian St. Benedict Crucifix with a few differences from the original. The most obvious is that it doesn't have 'ITALY' embossed at the feet of the corpus. It also lacks the side lance wounds on the crucified Christ. And lastly, instead of wooden inlays, it has wood-finished laminates. I found this curious crucifix at a flea market not knowing that it is a representation of a St. Benedict Cross. The clarity and details on the medal, on both the front and back, looked extremely intriguing that I bought it after a bit of haggling.

After some research, I discovered the meanings of the inscriptions and the values of the St. Benedict Cross, notably its protective attributes as well as its use in exorcising evil. It is also a symbol of strength at the time of death and a constant reminder for us to take up the cross as followers of Christ.

As this site is not a big-money business, I felt it is not necessary to debate about sweat shops in China and persecuted Catholic priests and why Catholics should boycott their products. This site is more about sharing, promoting and sustaining the Catholic faith. The symbol of the Cross and representations of Saints has always been a way of strengthening our faith in God and the Catholic Church together with its traditions and its values. Be it an Italian handmade cross or a China-made replica, it is our faith in God and the Saints that we pray to and not the objects themselves as they are just simply symbols of faith.

I give thanks to our Lord, Jesus Christ through the intercession of St. Benedict for His grace. At the same time, I pray for the artisans who have tolled to make this replica cross and for persecuted and oppressed priests. I pray for freedom and protection from all forms of evil and prejudice that are manifest in this world and those that we may encounter on a daily basis. St. Benedict, pray for us. Amen.

Kenny - Sept 2011
Related Links
http://www.catholic.org/featured/headline.php?ID=5493
http://www.washingtonpost.com/blogs/catholic-america/post/culture-war-over-catholic-identity/2011/06/22/AGJMcMhH_blog.html
www.fisheaters.com/sacramentalsintro.html
www.opusangelorum.org/formation/holyrosary.html
www.ourladyswarriors.org/prayer/15promise.htm
Photos Disclaimer
The images and photographs are provided to give you an overall impression of the products being offered for sale. Photographic equipment used such as cameras and lenses including lighting conditions may cause a slight change in the appearance and color of the product. All the products shown are sold in a "AS IS" basis. The photographs only serves as a reference and a guide to your purchasing decision. Interested parties are welcome to contact us to view the products at their convenience.
Authenticity of Gemstones
Our supplier has offered full guarantee on the authenticity of the semi-precious gemstone sold on this site. Full refund will be offered upon presentation of a SAC endorsed gemological lab report to certify that the gemstones purchased were contrary to what it was specified to be.
However, we like buyers to be aware that nearly all gemstones on the market today have been commonly lab treated to enhance their colour. Heat treatments are used universally to improve colour consistency, stability as well as durability.
At our prices, we do not claim that our semi-precious stones are the world's rarest and most valuable gems or 'jewels'. We are rosary makers, not jewelers. The semi-precious stones that we used are selected for having all the natural beauty of high grade expensive gemstones, but because they are not that rare, we can offer our rosaries at much lower cost. Our semi-precious stones are graded from A to AAA (Mostly flawless to flawless, bright coloration, very nicely drilled to perfectly drilled) in the category of semi-precious gemstones used in high quality costume jewelry and fashion accessories.
Please also note that all natural stones have slight variations in shade, colour, clarity, pattern and inclusions. Although we try to depict the stones in our pictures as accurately as we possibly can, different batches of natural stones will rarely look exactly the same. Please note that the features of the stones on our rosaries may differ slightly with different batches of shipment of our stocks.
Limitation of Liability
There are no warranties, either expressed or implied, or any kind with respect to products sold on this site. In no event shall the owners of this site be liable for special, indirect, consequential damages or injury arising from the products being sold on this site. We advise buyers to exercise due care, discretion and supervision for minors using the above products. Small components can represent a choking hazard and metal parts can cause abrasions if not used with due care.
Our imported medals, crucifixes and findings are made from either oxidised silver or silver/bronze plated zinc alloy that are lead, nickel and cadmium free. Our source metals are safe and commonly used in costume jewelry and fashion accessories worldwide.
After Sales Service
Limited only to replacement, adjustment or re-alignment of connecting hardware that have been damaged or may have been unfastened due to wear and tear on all of our products. We do not replace damaged or lost crucifixes, medals, beads, bead caps, clasps and other ornate parts that may have to be purchased separately if available. Also please read about caring for your gemstones below. Replacement of discolored gemstones due to improper care may also have cost implications.
Items with connecting hardware issues must be returned to us in its existing condition (eg. not modified or been tampered with). We reserve the right to charge additional repair charges as the case may be. Customers are responsible for all return shipping. We do not accept responsibility for items lost in transit if they have not been returned via registered mail.
Taking Care of your Rosary and Rosary Bracelet.
Please read.
When praying or wearing, protect your rosary and bracelet respectively from water, chemicals, perfume, direct sunlight and rough handling.
Never cause your wired bracelet to be bent at sharp angles as it should be maintained to keep its roundness to fit your wrist. Excessive bending especially at odd angles can cause wire fatigue, deformation and subsequent breakage. However, we now only use heavy duty rosary cords for rosary bracelets for more flexibility and durability. Also avoid accidental tugging, pulling or unnecessary tension when using your rosary or bracelets. Do not pull too hard when trying to put on the bracelet or getting tangled rosaries out of your handbag as it may cause the jump rings to open resulting in lost parts. Be gentle and never drop your rosary or bracelet on hard surfaces.
For cleaning, use a soft, dry cloth over the gem-stones to remove bodily oils and grit. Gently rub over stones and metal parts to restore the light shine. It is not recommended to wash your silver plated and gemstone jewelry in water as chemicals in tap water may tarnish the silver. Some gemstones are porous and may absorb water leading to discoloration. Avoid water especially on Rhodochrosite, Lapis Lazuli, Agates, Emerald, Coral, Howlite, Turquoise, Moonstone and Mother of Pearls. Always remove your silver gemstone jewelry before taking a bath or going swimming. When storing, avoid putting it in a place where it might be subjected to kinks, knots and possible deformation. Always store your rosaries in separate, dedicated compartment in your handbag to protect it from scratches and to avoid getting it tangled with other objects. Keep rosary bracelets in separate soft pouches and lay it flat with the clasps secured in your drawer or jewelry box. Store it in an air-tight container if possible or in a zip-block bag. This is to keep the moisture and humidity in the air out as it will tarnish the silver over time. Always wipe and fan dry your bracelets after being in the rain as the inherent chemicals in rain water will also tarnish the silver. Keeping your silver gemstone bracelet dry will prevent the silver from being tarnished. It will also ensure that the lustre of the gemstones are being preserved.
Finally, always inspect the jump rings for accidental openings, connectors and loops for any slippages after frequent usage or after accidental mis-handling or snagging. Most lost crucifixes and medals are due to accidental opening of the jump rings. Should your rosary breaks for any reason whatsoever, do try to recover the beads as lost beads may be difficult to to replace or match due to availability or colour inconsistency.
Treat your rosary and rosary bracelet as fine jewelry and when used with care, affection and devotion, your rosary and bracelet will last you a long time.
Customisation Policy
All of the items in this online shop can be customised to your individual desired design preferences and requirements.
A 30% prepayment will now apply for all custom requests. The balance of the cost will be paid upon collection of the finished customised product. We are now able to carry out customisation and re-orders in-house locally which can be completed within 2 days or earlier of your order. However, all custom requests are subjected to availability of parts and materials, if applicable. Requirement for prepayment can be waived if buyers sincerely promise to collect.
To determine your correct wrist size, measure the actual circumference of your wrist at the wrist bone for all rosary bracelet orders. Use a tape measure and please do not guess to avoid inaccurate measurements and disappointment. We will add the necessary allowances based on the actual wrist size given. Accuracy is important as subsequent request for resizing will be chargeable at $5.00 per bracelet.
Catholic gift shop Singapore, gifts for Valentine's Day, catholic gifts in Singapore
Sales Policy
As rosaries and rosary bracelets are very slow moving commodities, we cannot reserve any products unless payment has been made for it via bank transfer. We will have to release the products on a first come first serve basis. We seek your understanding on our predicament.
Also, please allow 2 days for re-stocking on all re-orders before collection. All rosaries and bracelets comes in organza gift pouches.
We strictly do not adopt 'hard sell' tactics as we believe in Divine Purpose, God's precious gift of free choice, and goodwill among men.
We also do not mark up our prices to allow for discounts. Our prices are reasonably fixed for this category of gemstones rosaries.
All orders which are not collected within one week will be put on sale on our website. Customised orders which are not collected will be dismantled and restrung into our standard rosaries and put on sale accordingly.
"In everything give thanks; for this is God's will for you in Christ Jesus" - Thassalonians 5:18
For Singapore Buyers
We do not have a retail shop as we are not a big business and we cannot afford the rent nor can we sustain a living on slow moving merchandise.
We are just a small part-time Catholic endeavor promoting devotion to the Blessed Virgin Mary through the Rosary.
Please feel free to contact us if you wish to personally view any of the above items.
Cash and carry available in Singapore only. We are located in Toa Payoh.
To order, simply cut and paste the description or picture of the items that you want in your email and sent it to our email address below and we will get back to you as soon as possible. If you do not get our reply, please check your trash folder. Thank you.
We accept only cash payment for self collection and strictly no bank transfers on the day of collection will be accepted.
For local mail order and delivery via local registered non-standard mail in Singapore, we accept money transfers via DBS/POSB banks (preferred).
Please add SGD 5.00 per batch purchases to cover registered local mail postage, packaging and handling.
Local delivery time will be around 2 to 3 days. Please note that the post office's maximum compensation liability is SGD 68.00 per package for lost registered items.
Please email us your order before making payment.
For payment through

and local delivery via local registered non-standard mail in Singapore, please add 8% to total costs (including registered postage, packaging and handling costs) for Paypal transaction charges.
Please email us your order before making payment.
Express courier delivery available to selected local locations in Singapore at SGD27.00. Please enquire.
Viewing of Rosaries
For those who wish to view our rosaries before buying, please do not expect to view in a plush air-conditioned shop at the shopping mall. We regret that viewing will be carried out at the void deck of our residence as we do not have a shop. Viewing/collection is usually after 6.30pm on weekdays and anytime on weekends by appointment only. Viewing is limited to the rosaries that we have in stock. We suggest that viewers shortlist the rosaries that they prefer and sent us the list before coming to view. Rosaries marked as 'Orders accepted, please enquire' have to be pre-ordered and are not available for viewing.
For International Buyers
We accept

for all international transactions (preferred). For international registered mail, an indicative cost for a rosary would be SGD 7.60 for postage, packaging and handling. Additional 8% Paypal transaction charges will apply as we do not factor in this cost into the cost of our rosaries or shipping for transparency. Delivery period will be about 10 working days, excluding customs clearance in your country.
We also accept payment via hassle-free

international money transfer/remittance service. Pls notify us before remitting the payment.
We now accept overseas payment via VISA personal payments.
Please notify us if you wish to pay via the VISA network, and we will provide the necessary details for you to make the payment.
Please e-mail us your order before making payment and we will advise actual shipping cost depending on the total order quantity.
Please also enquire when purchasing multiple items for optimal batching and packaging.
We ship to United States, South America, Canada, UK, Europe, Australia, New Zealand, Japan, Philippines, Indonesia and Malaysia.
For other destinations, please enquire.
Shipping
Kindly note that shipping does not include insurance.
We maintain a no-return policy and do not take any responsibility once the goods leaves our hands at the post office.
However we will forward a copy of the shipping documentation as proof of dispatch/delivery and for tracking purposes.
Please note: The post office has a maximum liability value of SGD 68.00 per package for lost registered articles.
For all enquires, orders or assistance, please contact Kenny at kennykhoocs@singnet.com.sg
More interesting items will be added soon. So watch this page!!!
Dominus vobiscum, Et cum spiritu tuo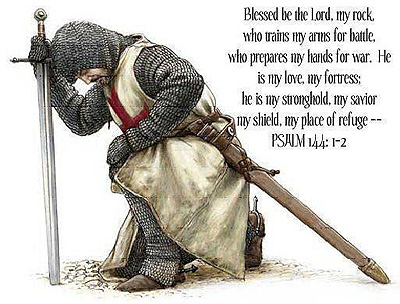 Catholic shop Singapore Catholic gift gifts shop store Singapore Catholic online shop store Singapore Catholic items products for sale Singapore Catholic shop store in Singapore Catholic unique hand made gifts shop online in Singapore
Christmas day gifts Singapore birthday gifts Singapore Anniversary gifts Singapore mothers day gifts Singapore Fathers day gifts Singapore Valentines day gifts Singapore Easter gifts Singapore Christmas gifts
Catholic gift shop Singapore religious items Singapore catholic gift store products Singapore roman catholic churches Singapore Rosaries Singapore Rosary Singapore Rosaries Singapore Rosary Singapore Rosaries Singapore
Catholic gifts for Christmas Singapore Catholic gifts for Valentine's day Singapore Catholic gifts for Christmas Singapore Catholic gifts for birthdays Singapore Catholic gifts for Christmas Singapore Catholic gifts for ladies girls
Easter gifts catholic Easter gifts Singapore catholic gifts shop Singapore catholic gifts store Singapore catholic gifts retail in Singapore Easter gifts catholic suppliers for gifts Singapore catholic presents for Easter gifts
Samsung Galaxy Note 2 Samsung galaxy Samsung Galaxy Note 2 Samsung galaxy Samsung Galaxy Note II 2 Samsung galaxy Samsung Galaxy Note 2 Samsung galaxy Samsung Galaxy Note Samsung galaxy 2
iPhone 5 iPad5 iPhone 5 iPad5 iPhone 5 iPad5 iPhone 5 iPad5 iPhone 5 iPad5 iPhone 5 iPad5 iPhone 5 iPad5 iPhone 5 iPad5 iPhone 5 iPad5 iPhone 5 iPad5 iPhone 5 iPad5 iPhone 5 iPad5
Singapore gemstone rosaries rosary semi precious stone rosaries rosary designer rosaries rosary pearl rosaries rosary crystal beads 2013 fall fashion designer bracelets 2013 winter fashion designer bracelets
2013 spring fashion designer bracelets 2013 summer fashion designer bracelets 2013 fall fashion designer bracelets 2013 winter fashion designer bracelets 2013 spring fashion designer bracelets 2013 summer fashion designer bracelets
Christmas day gifts Singapore birthday gifts suggestions Singapore Anniversary gifts suggestions Singapore mothers day gifts suggestions Singapore Fathers day gifts Singapore Valentines day gifts Singapore Easter gifts Singapore
Christmas day gifts Singapore birthday gifts Singapore Anniversary gifts Singapore mothers day gifts Singapore Fathers day gifts suggestions Singapore Valentines day gifts suggestions Singapore Easter gifts Singapore
Christmas day gifts Singapore catholic birthday gifts Singapore catholic Anniversary gifts Singapore catholic mothers day gifts Singapore Fathers day gifts Singapore Valentines day gifts Singapore Easter gifts Singapore